* Gov. Pat Quinn was supposed to appear in a Green Bay Packers jersey at the Feeding America Eastern Wisconsin food distribution center Monday because he lost his bet with Wisconsin's governor after the Packers beat the Bears in the NFC Championship game. That ain't gonna happen for a while, at least…
Gov. Quinn pulled the plug on a planned appearance Monday at a Milwaukee food bank because of the dramatic union-rights struggle unfolding in Wisconsin, his aides said Sunday. […]

"In light of the very serious issues that the state of Wisconsin is trying to work through right now, the governor felt the timing was not necessarily ideal and that it would be more appropriate to find a better date," Quinn spokeswoman Annie Thompson said. […]

But Thompson noted that Quinn extends a welcome to Wisconsin's Democratic state Senate delegation for as long as they need to be here and that the upheaval under Walker absolutely undercuts his drive to persuade Illinois businesses to cross the border.

"What we're seeing in Wisconsin is not the way to do it," she said. "When a state is experiencing such mass turmoil, businesses are not going to be attracted to it. The governor does welcome Democratic members of the Wisconsin Senate and really anybody from Wisconsin who wants to come to Illinois, where we're up and running and doing our best to work together."
* Related…
* Skipping Town: Tried-and-True Tactical Trick

* Wisconsin lawmakers to remain on the lam in Chicago

* Erpenbach: Return unlikely for Senate Democrats

* Wisconsin Democratic Senators: We're Staying In Illinois Until Gov. Walker Agrees To Negotiate

* Illinois educators respond to Wisconsin protests

* Could Wisconsin's labor rights 'ruckus' happen in Illinois?

* Protesters, impasse remain in Madison

* Defiant Wisconsin Democrats Say Running Away Is Democracy, Too

* Wis. Law Enforcement Association 'Regrets' Endorsing Walker

* WEAC to teachers: Go to work Monday
- Posted by Rich Miller Comments Off


* From Democratic state Rep. Greg Harris' Facebook page…
Very angry to get a call last night from the Secretary of Human Services to tell me that substance abuse, prevention and youth programs and possibly childcare will have to be eliminated NOW because of directions from the Governor's Budget Office. This is just plain wrong.
From the Champaign News Gazette…
Illinois will end all state funding for substance-abuse treatment and prevention programs next month, a move that could close some alcohol and drug-treatment centers across the state, advocates say. […]

The state also plans to implement 6 percent reductions in Medicaid reimbursement rates, Suardini said. And Medicaid funding for substance abuse treatment is limited to women, so men wouldn't be covered, he said. […]

The governor was given emergency budget authority for fiscal 2011, but Howe said her agency is working with legislators now to determine if he has the authority to make these cuts.

"There's still a question of the legality of cutting this much money at this time," she said.
More info for subscribers is here.
* Meanwhile, the tea party folks counter-rallied for a few hours today in Wisconsin. Here's the most Illinois-relevant sign I could find from their event…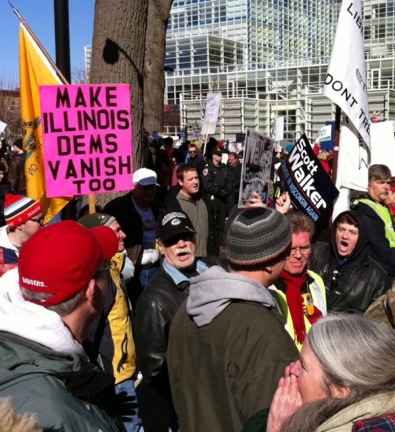 Some would find that funny. Others, considering the climate, might consider it eliminationist rhetoric.
The Wisconsin State Journal had a pretty decent live blog of the situation on the ground up there.
* The Daily Herald had a piece about the Wisconsin protests and Illinois…
Local union members and state politicians at both ends of the spectrum are watching the protests in Madison, Wis., with a vested interest.

If the prevailing attitude is "it can't happen here," not with Gov. Pat Quinn at the helm and Democrats in control of the General Assembly, it's also an acknowledged possibility that something similar could.

"What's at stake in Madison is the basic right of working people to have a voice," contends Anders Lindall, Chicago spokesman for the American Federation of State, County and Municipal Employees. "I don't think that we have the same dynamic in Illinois, where that type of total assault, on such a basic right, would be tolerated."

"I don't know that you'll see anything like that anytime soon," added state Sen. Matt Murphy, a Palatine Republican. "Although there are frankly bipartisan discussions right now about current employment benefits."
* And here's a sign from Egypt…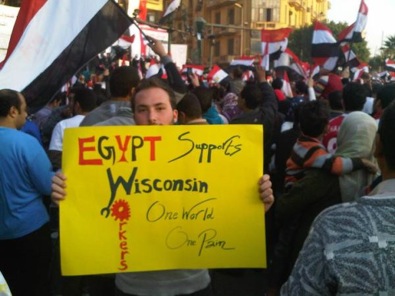 * Related…
* Illlinois not yet Wisconsin when it comes to state worker unions

* Poll: Wisconsin governor, union action approval ratings

* Map: Collective bargaining rights laws by state

* Wisconsin lawmakers to remain on the lam in Chicago

* Quinn Supports Wisconsin Senators Hiding In Illinois

* Hundreds of [tea party] Activists Traveling to WI

* Religious leaders in Illinois and Wisconsin are offering sanctuary to Wisconsin Democrats as they boycott a vote on a Republican bill that would strip public workers of nearly all their collective bargaining rights.

* WLS' Cisco Cotto interviews Wisconsin Senate Republican Leader Scott Fitzgerald

* Are Wisconsin's state and local workers overpaid?

* VIDEO: This week's Capitol View

* Ex-trooper Matt Mitchell's claim for workers' comp is denied

* Proposed state law: three caskets to one grave: An Illinois lawmaker is pushing a bill that would allow cemeteries to bury some people three to a grave. State Rep. Bill Cunningham, D-Chicago, is proposing a bill that would limit cemeteries to burying indigent or unidentified bodies to three caskets in one grave.
- Posted by Rich Miller Comments Off