* Subscribers already know this and a lot more…
State Senator Rickey Hendon has resigned his office. He denies any federal "problems."

The spokeswoman for Illinois Senate President John Cullerton confirms that the senate secretary has received Hendon's letter of resignation.

Hendon has served as senator for the 5th District since 1992.
Hendon's hypertension has been a serious problem lately. I've talked to him a few times about that federal investigation and he appeared wholly unconcerned. I seriously doubt that was the reason he left. Subscribe for more info.
The Senate just won't be the same without Rickey Hendon.
*** UPDATE *** Gov. Quinn was asked about Hendon earlier today. His response…
"He's been a friend of mine for a very long time… I've always liked Rickey Hendon… I know he's had a few health problems of late. I know he's a good man."
His resignation letter is here.
Hendon, 57, told the Tribune he was upset about the "pathetic" black turnout in Tuesday's election and negative stories written about him over the years.

"I'm out," Hendon said by telephone. "Out is out." […]

In Springfield today, Rep. Annazette Collins, a Democrat who represents half of Hendon's Senate district, said she called Hendon once she heard of his plans.

"He just said he's frustrated with politics, you know, at this time," Collins said.
"Today is a wonderful day and as much as I have enjoyed working with you and all of my fellow senators, I have decided to call it a day and retire from this wonderful institution," Hendon wrote in a letter to Senate President John Cullerton (D-Chicago).

Nicknamed "Hollywood" for his TV and film-production aspirations, Hendon, 57, was a member of Cullerton's leadership team, had hypertension and frequently was a lightening rod for controversy.
- Posted by Rich Miller 46 Comments


* Rep. Mike Tryon (R-Crystal Lake) just rose on the House floor to demand legislation which would require "non resident legislators" who've fled to Illinois to pay income taxes. Tryon said that the Wisconsin and Indiana Democratic legislators should pay taxes here just like the Green Bay Packers players had to pay taxes when they played the Bears during the NFC Championship game.
Heh.
*** UPDATE 1 *** Video of a Tryon interview from IL Statehouse News…
He all but admits this is tongue in cheek, but the IL GOP is taking him seriously.
*** UPDATE 2 *** Here's the audio of Rep. Tryon's floor speech…
[ *** End Of Updates *** ]
* From tongue-in-cheek common sense in Springfield to cheekiness in DC…
In his first interview since voting to eliminate a $230 million federal grant to build an Amtrak line from Chicago to Iowa City, U.S. Rep. Bobby Schilling sat down with News 8 to discuss his decision, and how he thinks that rail service through the Quad Cities could still eventually happen. […]

Ironically, Schilling said two players from opposite sides of the aisle will make sure the rail comes across his desk again.

"Durbin and [Sen.] Mark Kirk aren't going to let a lot of this stuff flow through, and then it's going to come back and then we break it down on an individual basis," he said. "You know, that's just how the process works."

Schilling said he met with Paul Rumler, the executive director of the Quad Cities Passenger Rail Coalition, and for the first time he was willing to go on the record on the issue.

"Rumler, he's explained to me exactly why the rail will help our area and I'm in agreement with almost 100 percent of what he's had to say," he said. [So if it comes down to it] I'd be with it, yeah."
So, he voted against it, but he finally checked into the biggest project in his district in years and now he's OK with it.
* And there's more trouble for a Pat Quinn appointee…
A long-simmering standoff between Gov. Pat Quinn and the Illinois Senate over the nomination of Illinois Commerce Commission Acting Chairman Manuel Flores is coming to a head, with signs pointing to Mr. Flores' imminent departure.

The Senate Executive Committee has scheduled a vote for Tuesday on Mr. Flores, who's been acting as head of the state's utility regulatory body for over a year but hasn't been confirmed. People familiar with the matter said Senate President John Cullerton privately has told the governor's office in recent months that the votes aren't there to confirm Mr. Flores, a former Chicago alderman who has run into a buzzsaw of opposition from some members of the state Senate's Latino caucus and from utilities who see him as pro-consumer.

A spokeswoman for Mr. Cullerton referred questions about the nomination to Sen. Willie Delgado, D-Chicago, in whose district Mr. Flores lives.

Sen. Delgado is vice-chairman of the committee and an ardent opponent of Mr. Flores due to a long-standing feud over their differing political allegiances within the Hispanic community. In an interview, he predicted Mr. Flores will be voted down in committee if the governor doesn't withdraw the nomination.
They're looking for another job for Flores, but he doesn't want to move. And the problem isn't solely with Delgado. Subscribers know more, and they may know even more tomorrow if the stories I've been hearing this week are true.
* But at least Quinn's getting along with Missouri…
Illinois and Missouri will share the nearly $5.3 million cost of emergency repairs to a Mississippi River bridge just south of St. Louis.

Missouri Department of Transportation spokesman Jack Wang tells the St. Louis Post-Dispatch that the Jefferson Barracks Bridge remains safe and accessible to traffic.
- Posted by Rich Miller 29 Comments


* The Tribune editorialized today in favor of Illinois holding non-partisan primaries like Chicago's…
A year ago, nearly 80 percent of Republican primary voters voted for somebody other than Bill Brady to be their candidate in the general election. Brady's support was astoundingly poor in the six-county Chicago area. His best showing: 8.5 percent of the vote in McHenry County. He got less than 6 percent in Cook, DuPage and Lake. […]

Take note: There also would have been a runoff in the general election. Gov. Pat Quinn's 46.79 percent on Nov. 2 wouldn't have gotten it done.

The drawback to adding a round of balloting is the cost. It's expensive to run a state election. But what if Illinois fully adopted the Chicago system: Everybody runs without party labels on the first ballot, and there's a runoff if necessary. That would be two trips to the polls, same as now. Both elections could be held in the fall, so we wouldn't have the ridiculous nine-month gap between the primary and general elections.
* The Question: Should Illinois have non-partisan primaries for all state offices with a runoff if anyone doesn't score at least 50 percent plus one vote? Explain.
- Posted by Rich Miller 40 Comments


* Check out this map of the precinct election results for Chicago mayor…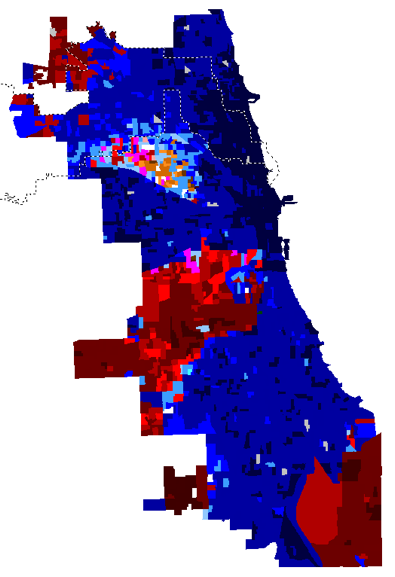 Legend…
Blue is for Emanuel (who won 2,087 precincts), red for Chico (410), orange for del Valle (47). Oh, and green for Carol Moseley Braun, but you can't tell with her, since she won exactly one precinct. There were also 11 ties. (The dashed line toward the top represents Rahm's old congressional district, IL-05, now held by Dem Mike Quigley.)
Braun won one precinct? One?
Oy.
* And…
Rahm did better in wards with Black aldermen (59%) than those with White aldermen (55%).
* From Progress Illinois we have voter turnout by ward…
* Perhaps the only person in the entire city more clueless than Carol Moseley Braun is Rob Halpin…
Rob Halpin, the cantankerous tenant of Mayor-elect Rahm Emanuel's house in Ravenswood who refused to budge before his lease was up, tells Sneed he wouldn't mind staying! […]

† Quoth Halpin, who lives in Rahm's two-story family house on North Hermitage: "The lease is up at the end of June 2011. I doubt that they would move back here, as it is a long way from City Hall and the Latin School, where we heard their children may attend.

"It is also a security nightmare as the house has abundant glass and open space. If they wanted us to stay on we would consider it. There aren't any hard feelings on our part."
Absolutely hilarious.
Mr. Halpin should take a cue from a good friend of mine who lives in the 19th Ward. My friend's entire family backed Chico for mayor. He called yesterday to ask if he and his family could move in to my Springfield house until the heat blew over.
* Meanwhile, Emanuel has ruled out a property tax hike…
Emanuel's pledge not to entertain a property tax increase of any size came in response to a question about how he planned to solve the city's pension crisis.

A bill approved by the Illinois General Assembly over Mayor Daley's objections would saddle homeowners and businesses with a $550 million property tax increase in 2015 unless pension concessions are negotiated or another new revenue source is found.

During the campaign, Emanuel ruled out raising property taxes that much, which would amount to a 90 percent increase. On Wednesday, he was asked whether he would entertain a property tax increase of any size. His answer was an emphatic no.
* And he geared up for a possible showdown with the CTU…
No sooner had Rahm Emanuel taken the stage Tuesday night as mayor-elect than his thoughts turned toward restoring confidence in the city's fractured public school system.

Emanuel pledged to try to improve student safety in violent communities, boost the fortunes of struggling neighborhood schools and urge parents to take a more active role.

But Emanuel knows the problems at CPS, the nation's third-largest school district, run much deeper, and even before his sweeping victory Tuesday he made enemies of the Chicago Teachers Union with his strong support of charter schools and his plan to keep the school board under mayoral control.

The divide culminated last week when union president Karen Lewis stood before reporters and said: "The fact is Rahm Emanuel does not seem to support publicly funded public education as we know it." The union chose not to endorse a candidate for mayor.
* He also reached out to a Braun supporter…
Watch for Emanuel to appoint Dr. Byron Brazier as a co-chair of his transition team. Brazier, an old friend of Carol Moseley Braun and an ordained minister and pastor of the Apostolic Church of God
* Notice anything curious about this?…
Gov. Pat Quinn today was asked about Rahm Emanuel's victory in the Chicago mayor's race and somehow got into a comparison of energy levels.

The Democratic governor said he called the mayor-elect Tuesday night and offered congratulations on the big win and "oustanding campaign."

"He's a person of great energy and idealism. I've known Rahm Emanuel for 31 years. And he's a person who has as much energy almost as I do. And I think I look forward to energetically working for the city of Chicago, where I live, as well for the whole state of Illinois," Quinn continued.
Wait. I thought the governor said he lived at the mansion because that's where he kept his undergarments?
* The Tribune takes a look at Ameya Pawar's big win over the 47th Ward organization…
Scott Cisek, who lives in the 47th Ward and is political director for the Cook County Democratic Organization, said O'Donnell ran an old-fashioned campaign in an upwardly mobile ward.

"They were counting on a model that doesn't exist anymore," said Cisek, who ran Cook County Board President Toni Preckwinkle's successful Democratic primary campaign last year. "They were counting on a buggy-and-whip model."

The outcome was also partly a result of "people being upset with Schulter trying to endorse a successor," said Dick Simpson, a former alderman and political science professor at the University of Illinois at Chicago who lives in the 47th Ward and gave Pawar advice on his campaign.
The 47th Ward hasn't been up to snuff in years. Back in the 1990s, Speaker Madigan's operation put Lisa Madigan into the state Senate over the strong objections of the "Fighting 47th." But it was still better than some organizations, and Pawar avoiding a runoff was no easy feat.
* Roundup…
* Emanuel's winning vote total may be lowest ever

* Emanuel Downplays Being First Jewish Mayor

* Chicago gets first Asian-American alderman

* Dowell rolls in 3rd Ward

* Burnett cruises in 27th Ward

* Incumbents win in 28th, 29th and 37th Wards

* Solis, Morfin head to runoff in 25th Ward

* Fioretti gets 2

* Most Carbondale voters stay home: A total of 1,897 ballots were cast Tuesday in Carbondale's primary election out of 11,040 registered voters, good for a turnout rate of 17.2 percent, according to official precinct-by-precinct numbers released Wednesday morning by the Jackson County clerk's office.
- Posted by Rich Miller 25 Comments


* Some Illinois Republicans pat themselves on the back…
Illinois legislators are facing tough budget problems and many are asking if our minority party could follow in the footsteps of Wisconsin and Indiana's. However to some of them walking out just isn't an option.

"I may lose that battle but at least I go on the record and I fight for my community," says Illinois' 34th District Senator Republican Dave Syverson.

Republican senators in Illinois have been the minority party for nearly a decade. In that time a walkout has never been staged and according to some senators it will never happen.

"They understand that their job is not to run away even when the decisions are hard. The people send them down there to have debates about the issues and stand up for what they believe in," says Illinois' 35th District Senator Republican Christine Johnson.
It's pretty easy to say you wouldn't follow in others' footsteps when you are barred by law from doing so. The minority party simply doesn't have the option of walking out in Illinois. Our state Constitution requires only a majority be present and accounted for, unlike the extraordinary majorities in Indiana and (on fiscal matters) Wisconsin. So, unless a whole lot of Democrats are missing, the Republicans cannot halt business by bolting the chamber.
I'm not sure what the quorum rules were in the 19th Century, but Abraham Lincoln infamously jumped out a window during a failed attempt to prevent an Illinois House quorum call. Lincoln was eventually elected the House Minority Leader.
* After taking a kinder, gentler approach to fleeing Democrats earlier in the week (and getting blasted by his party's right wing for doing so), Indiana Gov. Mitch Daniels changed his tune yesterday…
Indiana House Democrats stayed away from their desks for a second day on Wednesday in an attempt to block a proposed law curbing union power, prompting Gov. Mitch Daniels to say they were showing "complete contempt" for the Democratic process.

"You know, if they persist, the Democratic Party of Indiana will need a rebranding effort because this is as anti-democratic as behavior can be," Republican Daniels said.

Like their counterparts in Wisconsin, most House Democrats left Indiana for Illinois to prevent the Indiana house from voting on "right-to-work" and other Republican-sponsored legislation. The measure would have made it a misdemeanor for an employer to require workers to become or stay members of a labor union.
* More…
"I can tell you I don't know what will happen," Daniels said. "I can tell you what won't happen: We will not be bullied or blackmailed out of pursuing the agenda we laid in front of the people of Indiana. That agenda is going to get voted on. If it takes special sessions from now to New Year's, we will hold them. We will send the bill to (former) Speaker Bauer and to the Democratic Party of Indiana."

How far apart are they? Miles.

[House Minority Leader Pat Bauer, D-South Bend] called House Bill 1003, the voucher program for private school tuition, and Senate Bill 575, the bill limiting teacher collective bargaining to only wages and wage-related benefits, "deal breakers."

Daniels called those bills "non-negotiable."
* Gov. Pat Quinn has apparently reached out to welcome some of the fleeing Democrats. The governor was asked again about the situation yesterday…
Gov. Patrick Quinn of Illinois seemed to delight in the new arrivals, some of whom said Quinn, a Democrat, had telephoned them to offer his personal welcome.

"We believe in hospitality and tourism and being friendly," Quinn said Wednesday, quickly adding: "I also believe in unions."

While its proximity made it the obvious choice, Illinois seemed a fitting hideout. As Republicans seized control of many statehouses in the Midwest in November, Illinois was one of the few where Democrats had held on to theirs.

"It seems like very friendly territory," said state Rep. Win Moses, 68, one of the Indiana Democrats who say they have been meeting in a hotel conference room, working on business as usual (so far, they have drawn up 105 amendments to the Republicans' proposed state budget), dining at the Cracker Barrel and waiting for some sign from Indianapolis that efforts to limit unions would be dropped.
* Quinn's remarks…
* At least we don't have to worry about our southwestern border being breached…
The situation in Missouri is much different than Wisconsin's. From a practical standpoint, Missouri does not allow collective-bargaining for public employees like teachers and firefighters. Another difference: Teachers, firefighters and police in Missouri have separate pension agreements with school districts and local governments that don't count on any financial contributions from the state government.

The other big difference between Missouri and Wisconsin? Missouri has a Democratic governor who has no desire to challenge the state's unions because they are likely to be key in Gov. Jay Nixon's quest for re-election in 2012.
* But the Wisconsin standoff - and our "guest" situation - continues…
The 14 wayward Wisconsin lawmakers have given no hint about when they might return, even amid recall threats, a Senate rule change that forces them to appear in person if they want to receive their paychecks and the GOP-controlled Legislature returning to work on other business without them.

Gov. Scott Walker has implied that if the Democrats don't come back soon, they'll be responsible for thousands of state workers losing their jobs because Wisconsin won't be able to refinance its debt.
* Ohio has the same sort of quorum rules as Illinois, so their Democrats won't be arriving soon…
Ohio Republicans edged back on a plan to strip public workers of their union rights while their counterparts in Wisconsin slogged ahead on a similar proposal, pushing through a punishing debate that stretched into its third day in the state Assembly. […]

Republicans in Ohio offered a small concession on Wednesday, saying they would support allowing unionized state workers to collectively bargain on wages — but not for benefits, sick time, vacation or other conditions.
That Ohio GOP "concession" was Wisconsin's starting point. Wow.
…Adding… I forgot to post this one from the News-Gazette…
A majority of the Democratic members of the Indiana House of Representatives have temporarily moved to an Urbana hotel in an effort to prevent votes on bills they consider to be bad for teachers, workers and families.

"This is not a walkout; it's a seminar that is taking place in a lovely place: Urbana, Illinois," said Indiana House Minority Leader Patrick Bauer of South Bend.
I've been wondering whether they're ordering food from Jimmy John's.
- Posted by Rich Miller 50 Comments


* This article pretty much tells us all we need to know about how the muni bond hysteria is overblown and how it's costing taxpayers a pretty penny…
Investors skimmed over Illinois' well-known financial troubles to vie for a piece of a $3.7 billion taxable pension bond sale on Wednesday.

The state received $6.1 billion in orders from a record 128 investors, according to John Sinsheimer, the state's capital markets director.

"Well, I have $6.1 billion of bids to tell me the market was comfortable with the budget. And 128 investors must have reached that conclusion as well," he said. […]

Bonds due in 2014 were priced at a 280 basis point spread over comparable Treasuries, versus 285 basis points from Tuesday. The spread on the longest bonds, due in 2019, also narrowed 5 basis points to 240 basis points over Treasuries.
The amped-up hysteria causes prices to jump, and smart investors know a good buy when they see one. They understand, unlike the freaked out tribe, that Illinois hasn't missed a bond payment since 1818. The problem is, the hysteria causes prices to jump, which means taxpayers are on the hook for higher interest rates.
…Adding… This is just a ridiculous Wall Street mindset…
The longest maturity in the Illinois bond deal, due in 2019, was sold at a yield of 5.877%. In comparison, a $400 million "junk" bond issued by auto-parts maker Dana Holding Corp. and maturing in 2019 had a yield of 6.24%.
Sheesh.
* Speaking of the state's budget troubles, right now, Downstate and suburban school districts pay only about half a percent of payroll to the Teachers Retirement System. Senate President John Cullerton wants the districts to increase their payments by about $700 million a year…
The shift from the state being entirely responsible for downstate and suburban teachers' pensions to a hybrid of state and local funding would be phased in, Cullerton told The State Journal-Register's editorial board on Wednesday.

School districts would be responsible only for the "normal costs" of pensions – the cost of paying out benefits to retirees for the current fiscal year and funding part of the future benefits for teachers still on the job. The state would continue to pay down the debt created by decades of underfunding by legislatures and governors, Cullerton said.

Cullerton estimated that normal costs account for one-third of the state's annual ($2.1 billion) payments to the state Teachers' Retirement System.
Teachers currently contribute 9.4 percent of their salary to the pension fund.
Thoughts?
* Meanwhile, the furor over the governor's decision to immediately zero out all funding for substance abuse programs continues to resonate…
Jacksonville's Wells Center is preparing to shut down by the end of March unless Gov. Pat Quinn changes his mind about drastically cutting funding for addiction treatment and prevention.

Providers of such services were notified this week that state funding will end March 15.

"For us, the cuts began on Tuesday," said Bruce Carter, Wells Center executive director. "We have already begun to prepare layoff notices and patient discharges, creating medical risks involved in the sudden disruption of a patient's addiction treatment."
* Other stuff…
* CS-T Editorial: Cut pensions but don't bust unions

* IL advocates for disabled plan rally to protest Quinn's proposed budget cuts

* 'Dire consequences' predicted if treatment programs are cut

* Legislators call on Quinn to reverse cuts for drug programs: A Chicago legislator says she will request a symbolic vote in the Illinois House today that calls on Gov. Pat Quinn to rescind an immediate $28 million cut in state funding for substance-abuse treatment programs.

* Lawmakers trying to block cuts to treatment facilities

* Mitchell, school leaders blast merger plan

* Galva, other area schools could be in Governor's cross hairs

* Support for Quinn's schools' plan

* Quinn signs crackdown on organized store thieves

* Ex-Bear Kurt Becker pushes head trauma bill

* Illinois 6th Biggest Polluter According To EPA Records
- Posted by Rich Miller 50 Comments