*** UPDATE 3 *** Gov. Quinn talked to the media this afternoon about CME. Quinn said CME Executive Chairman Terry Duffy was a "good friend," adding the two have had dinner together. "We'll have an ongoing conversation and dialogue," Quinn said.
The governor was asked if he now thought the corporate tax hike was a bad idea. "No, not at all," he replied. Quinn once again called the income tax hike "temporary" to pay off the bills, provide good schools, etc.
Was he worried about a corporate shakedown? "We don't believe in that kind of approach to life," he said.
"I don't think that anybody likes paying taxes," the governor said "but that's the price of democracy."
Audio…
*** UPDATE 2 *** I must've missed this…
The Chicago Sun-Times reported that Texas, New York, New Jersey and Indiana are possible alternatives. A CME spokesman declined to comment.
New York? Way high state and local taxes. Same for New Jersey and Indiana. Texas? Have fun with the gross receipts tax.
*** UPDATE 1 *** Mayor Rahm Emanuel said today that he's talked with top CME officials and is "confident" the business will stay in Chicago…
Mr. Emanuel said he talked both to Mr. Duffy, apparently this morning, and CME Chairman Emeritus Leo Melamed.

"CME has grown and been successful in Chicago. I believe they have many years ahead," Mr. Emanuel said, adding that he's "confident" the firm will stay here.

"I know their frustration," added Mr. Emanuel, who served on the board of predecessor firm Chicago Mercantile Exchange about a decade ago. "I also know they believe they can continue to be here."

Asked if changes in the state tax hike will be needed, Mr. Emanuel replied, "We're not at that point."
[ *** End Of Updates *** ]
* You would think that with the big and, as it turns out, almost totally fake uproar about Caterpillar leaving Illinois after the state raised its income tax rates that reporters might be a bit more circumspect the next time a corporate titan hinted at longing for greener pastures. You'd be wrong…
Chicago business is partly defined by its concentration of financial traders, but the boss of the city's two dominant futures exchanges said Wednesday that he might pull jobs out of the region in response to a state tax hike on corporations.

Terrence Duffy, chairman of CME Group Inc., said he, Chief Financial Officer James Parisi and the company's internal staff are evaluating a move to other states. […]

"I'm going to do what's in the best interests of shareholders," Duffy said, adding that "if that means opportunities are greater elsewhere, then we're going to look at those opportunities." […]

It accounts directly for about 2,000 jobs in the Chicago area, but its ripple impact goes much further. Trading firms set up shop here to be near the downtown trading floors, and banks and other institutions add staff to serve that business.

Some estimates place the job count from the trading industry here, which includes the Chicago Board Options Exchange, at more than 60,000.
The above story claims that Chief Financial Officer James Parisi said the tax hike will cost CME an extra $50 million a year. A CME spokesman said today that Parisi's statement was accurate.
* But this is also important. Duffy said at the meeting that CME would not be abandoning Chicago…
"We're investigating what would be in the best interests of our shareholders," Duffy said, noting that such a move would not mean CME would abandon its presence in Chicago, home to its markets for over a century.
So, the traders can calm down now. They won't have to move to Alabama or some similarly awful place.
* Duffy also added this…
Duffy tells the Chicago Sun-Times he is upset by the state's failure to close corporate tax loopholes. He says they favor some companies but leave others, including CME, to pay the full rate.
That's a good point.
* Chairman Duffy did not mention the state tax situation during his remarks. The state tax hike was also not mentioned in anybody's multi-media presentation.
When Duffy talked about the problem with his stock's subpar performance, the executive chairman identified only two factors. "A major overhang," Duffy said during his prepared remarks, has been the "uncertainty" of federal regulations. The other problem, he said was the company's "continued focus on new investments for future growth."
* I called CME this morning to ask for a further clarification of Duffy's comments about Illinois' tax hike. I was told a further clarification wouldn't be possible and was referred back to his quotes. I asked whether there was already a plan or at least a process in place to look for another CME headquarters site. I was told that the spokesperson couldn't comment further.
The Q&A video with shareholders isn't online, so I couldn't find the complete context of Chairman Duffy's comments.
* Former US House Speaker Denny Hastert was elected to the board of directors at yesterday's shareholder event, but he's in meetings all day today and I couldn't reach him to ask whether he would fight to keep the company in his home state.
* The company has other problems as well…
In response to a shareholder who questioned the need for a 33-member board, Mr. Duffy said that the company will pare the size of the board over time because he realizes it's costly for it to be so large. Contractual obligations will only allow cutting it by a couple of members starting next year, but there will be bigger decreases between 2013 and 2014, he said.

Executives also blamed uncertainty over regulatory changes for hampering the exchange operator's shares, adding it would look to global partnerships — not acquisitions — for growth.

Shares of CME, the world's largest futures exchange operator, are down 18% so far this year vs. a 4% drop in the Dow Jones Global Exchange index.

The company's shares have dropped 8% so far this month as government data showed the U.S. economic recovery stumbled — making an interest rate rise less likely and hurting the outlook for CME's treasury and eurodollar trading.
* But it's not exactly a pauper…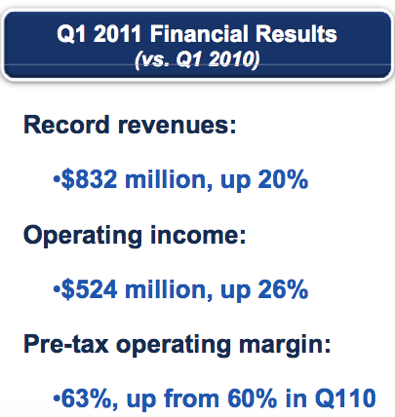 39 Comments




















































































































Sorry, comments for this post are now closed.