* Mike Boland is dropping out of the congressional race and will run for state Senate. This will be one of the most-watched primaries of the year…
Former state Rep. Mike Boland is dropping out of the Democratic primary in Illinois' 17th district and will pursue a challenge against state Sen. Mike Jacobs.

The state Senate race would pit two longtime rivals against one another. And it would also pare the already lengthy slate of Democrats seeking to unseat U.S. Rep. Bobby Schilling, R-Ill. […]

Boland acknowledged he hasn't done much fundraising, and he said he'd only raised about $6,000, far less than what some of his rivals are expected to report. Still, he said it wasn't lack of money that is behind his exit.

He said he is challenging Jacobs because he's unhappy with his record, particularly his sponsorship of a bill to let utilities raise rates to improve the electrical grid.
The feud between Boland and the Jacobs family goes back decades. He and Mike's father despised each other, and the enmity continued when the son got the seat. Attempts were made in the past to dislodge Boland by both parties, but he's always held on. He's not all that popular at the Statehouse, but he was popular back in the district.
However, Boland has no money in his state campaign account. He drained it during his feckless bid for lt. governor last year, but he raised only a few thousand dollars for that campaign. Most of his money came from loans made by himself and his wife. Sen. Jacobs had $88K in the bank at the end of June and has raised about $48K since then.
Jacobs sponsored the much-hated "Smart Grid" bill. Jacobs' father lobbies for ComEd. There's plenty of fodder for Boland if he can run even a half-real campaign.
*** UPDATE *** Jacobs responds…
"I'm surprised," Sen. Jacobs said. "He announced he was dropping out of the (Illinois) House where he had served 20 years to spend time with his grandkids. Then he ran for lieutenant governor and finished fifth. Then he ran for a Black Hawk College trustee position and then he announced a campaign for Congress.

"Now he's going to drop out of the congressional race to run for (state) Senate. He makes me wonder if he knows what he wants to be when he grows up. I feel sorry for him. He has some issues."

Sen. Jacobs said he doesn't know Mr. Boland very well, but questions his motivation to run for the Illinois Senate.

"I don't know what he could possibly offer the folks," Sen. Jacobs said. "He hasn't been very effective. … Thirty years ago, Boland ran against my father (for state Senate) and lost and endorsed a Republican after my father (Denny Jacobs) beat him. I don't know what his motivation is. But anyone can run. It's America."
* Meanwhile, Democratic state Rep. Tom Holbrook has taken himself out of the race to replace retiring Democratic Congressman Jerry Costello. Others aren't exactly climbing over each other to run, either…
St. Clair County State's Sttorney Brendan Kelly and state Rep. Jerry Costello II, the congressman's son, have told the News-Democrat they don't plan to run for the seat Costello is giving up.

St. Clair County Board C hairmanMark Kern also has decided not to run for the 12th District seat, according to the St. Louis Post-Dispatch. Kern couldn't be reached for comment. […]

Holbrook predicted "There'll be a Democrat running."

As to who that Democrat would be, "I would have to refer you to the party chairs," he said.
* In other campaign news, there's been a lot of talk about House Republican Leader Tom Cross thinking about endorsing Rick Perry's presidential campaign. But Cross' political godfather has just endorsed Mitt Romney…
"During my years in the House, I was an advocate for balanced budgets and low taxes," Hastert said in a statement. "Mitt Romney stands up for these principles….From his success in the private sector, Mitt Romney understands how to create jobs and turn around this economy."
* Everybody knows that Congresswoman Jan Schakowsky is intensely hated by the right wing. This post by Rebel Pundit is no exception…
#OccupyChicago: thousands of anarchists, union members, and Democrats–and not one American flag.

Just like the Tea Party!

Rep. Jan Schakowsky (D-IL) was on hand. She addressed a mob outside the Hyatt Regency Chicago, where some activists apparently attempted to disrupt a meeting of the Mortgage Bankers Association. She then led them in one of five feeder marchers that combined into a sea of pot-smoking, bongo-drumming, flea-infested dreadlock lunacy outside the Art Institute of Chicago.

We caught up with Jan, and asked for her thoughts on the patriotism of the protest, since we could not find one American flag in her parade of nearly 1000 liberal loons.
*** UPDATE *** Apparently, the blogger either ignored or didn't see this flag at the event…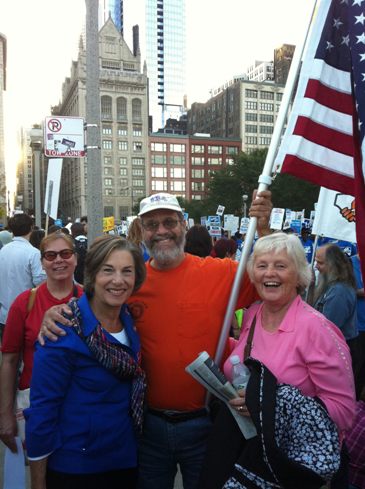 * Related…
* ADDED: Paul Ryan to raise money for Schilling

* Elk Grove Mayor Won't Run For Congress: "I have no desire to run for Congress or state senate, as long as you give me the privilege, nothing makes me prouder than to say I'm the mayor of Elk Grove," said Mayor Craig Johnson at Tuesday night's village board meeting, putting to rest talk he might mount a run as a Republican in the newly remapped 8th Congressional Dist.

* Resident to Biggert: 'I am Seething' About Job Cuts - Protesters came to Rep. Judy Biggert's office in Willowbrook to encourage her to support the jobs bill that was before the U.S. Senate Tuesday.
22 Comments

































































Sorry, comments for this post are now closed.