* A group of liberal Democrats around the country is monitoring Rush Limbaugh's radio talk show and compiling a list of his advertisers. The idea is to use the list to enforce a boycott of Limbaugh's show over his grotesque remarks about birth control and a woman who testified in Congress.
John Majka is monitoring Rush's show on WLS radio for advertiser names. One of the advertisers he added to the master list yesterday was the Illinois Lottery.
* So, does the Illinois Lottery really advertise on Rush Limbaugh's show?
Well, as it turns out, a Lottery ad did run on Rush's program yesterday during a WLS traffic report. But the ad was mistakenly placed by an advertising network, a Lottery spokesperson claimed today. Metro Networks buys ad time for the Lottery's traffic spots.
According to the Lottery, it doesn't advertise on national programs and doesn't advertise on WLS radio. It also doesn't advertise on "political" programs. Metro Networks is supposed to follow the Lottery's rules, but apparently didn't in this case.
The company is refunding the Lottery's money, according to a Lottery spokesperson. Two Metro Networks execs werent able to immediately confirm the Lottery's explanation. I'll let you know if the company has a statement.
The Lottery was all over this when I alerted them to the fact that they were on the Rush advertiser list. They don't need or want that sort of publicity.
* Meanwhile, Illinois Review has doubled down on the Rush controversy by publishing a new cartoon…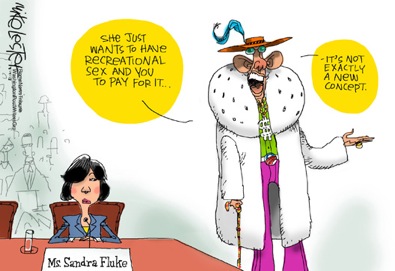 Discuss, but keep it clean, people.
88 Comments







































































































































































































































































Sorry, comments for this post are now closed.