* House Speaker Michael Madigan has yet to comment on Tuesday's federal bribery arrest of one of his own caucus members…
"It's all under review," spokesman Steve Brown said. He declined to elaborate when asked what that meant and said he didn't know whether Madigan would reach any conclusions before voters go to the polls.
Brown's been giving me the same line for days.
* More…
Republican Party Chairman Pat Brady criticized Madigan again Thursday for his silence, saying Smith should resign. Brady is particularly piqued by a mail piece Madigan produced for his own re-election race boasting of his efforts to "clean up the mess" when former Gov. Rod Blagojevich and other politicians broke the law.

"I guess this time it isn't politically convenient, so Madigan is sitting this one out — further eroding the public trust and reputation of the state of Illinois," Brady said in a statement.

Democratic Gov. Pat Quinn said little more than Madigan about the situation during an appearance in Chicago Wednesday.

"We shouldn't judge anyone until the jury does and the judge renders a sentence, if that's the case," Quinn said.
* Former Republican Party official Tom Swiss is running against the arrested Rep. Derrick Smith (D-Chicago) in the Democratic primary. Swiss is complaining about a yard sign that I showed subscribers on Monday…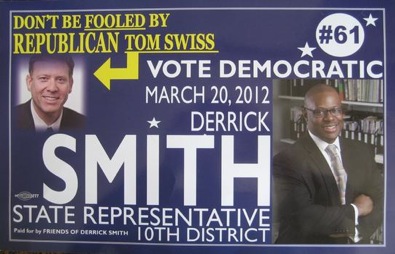 * NBC5…
Thursday Swiss said Madigan and Smith are sending direct mail to voters in the area intended to smear him. The mailers appear to be a reaction to a billboard purchased by Swiss, who is white, that features an African American. There was some confusion as to whether Swiss was trying to pass himself off as an African American with the billboard. Swiss says no.

"I call upon Speaker Madigan to halt the disgusting smear campaign that is being planned for the final weekend," Swiss said. "The Speaker should be joining me in calling upon Smith to withdraw, not trying to save Smith from the consequences of his own greedy conduct."
* Check out this Tom Swiss mailer, "Hey Gorgeous"…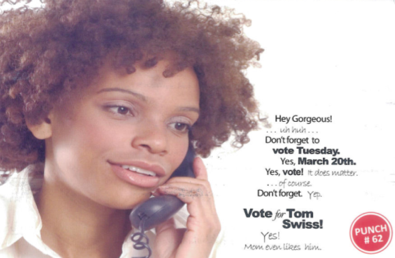 And…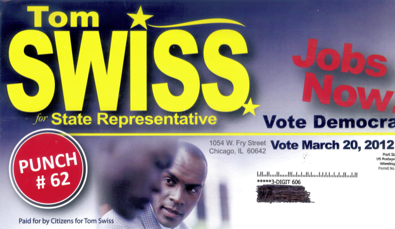 I think that's what Tom Swiss might call trying to take advantage of an "extremely low information" voter base. The Rep. Smith yard sign could be seen as countering such an attempt.
* Swiss is doing some interesting stuff with the Comed bill issue, however. Click for a bigger pic…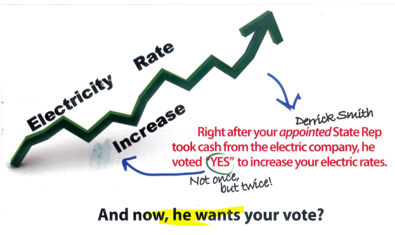 Discuss.
*** UPDATE *** I didn't notice this Tribune editorial until a reader sent it to me…
You know it's almost Election Day when the lawn signs start vanishing.

They're there at night but — whoop — missing in the morning. Usually, nobody's caught in the act.

But look what happened on the Southwest Side on Tuesday: Chivalrous citizens confronted a man they say was lifting campaign lawn signs. They chased him down an alley, called police and made sure a squad car provided a grand exit from the neighborhood.

Carole Suhanek, a local resident, told us she was walking her dog on 64th Place between Meade and Austin avenues when she noticed a man going yard to yard and plucking out the bright red campaign signs of Illinois House candidate Michele Piszczor. The man claimed he had permission to take the signs, but she didn't believe him.

She flagged down a neighbor, who chased the man through an alley and called police. Suhanek said officers found at least two of Piszczor's yard signs in his car. We checked — the car is registered to a campaign worker for House Speaker Michael Madigan.

Yes, Piszczor, 25, is running against Madigan in the Democratic primary.
55 Comments




































































































































































Sorry, comments for this post are now closed.