* From the National Journal…
Three wave elections in a row have done plenty to scramble the House landscape. This year, it's unlikely another wave will develop–at least any wave that could overwhelmingly benefit one party. Instead, we're likely to see an anti-Washington backlash, one that could cost a number of members their jobs, even if neither side sees a big net increase.
* The National Journal looked at 75 US House districts that it deems the most likely to change hands. Here are the Illinois rankings…
3. IL-08 (R, Rep. Joe Walsh): Walsh complained recently that Democratic nominee Tammy Duckworth, an Iraq war veteran and former Veterans Affairs official, uses her service as a way to duck political issues. She would have to address issues more if Walsh didn't keep sticking his foot in his mouth. The seat gave President Obama more than 61 percent of the vote in 2008, and 45 percent of its residents are nonwhite. As one of Walsh's colleagues might say, the cake is baked.

8. IL-10 (R, Rep. Robert Dold): Of all the Republican-held House seats, this one gave the greatest share of its 2008 presidential vote to Obama. But Democrats failed to capture it from Mark Kirk in several attempts last decade, and they couldn't keep Dold from holding it for the GOP in 2010. Dold's legitimate moderate streak (and a formidable war chest) gives him a glimmer of hope, but Democrats have a strong, moderate nominee in Brad Schneider. Schneider will hammer Dold all autumn for his two votes for the Ryan budget plan. Obama could win the district with 60 percent again, and it would be difficult for Dold to peel off a full sixth of Obama supporters from Schneider.

16. IL-17 (R, Rep. Bobby Schilling): Democrat Cheri Bustos is quickly raising cash in a district that, like nearly every other GOP-held seat in Illinois, got more Democratic after redistricting. The swing districts outside Chicago's orbit aren't quite as fertile ground for Democrats as the ones closer to the city, but Schilling is competing at a structural disadvantage.

17. IL-11 (R, Rep. Judy Biggert): Biggert is a moderate on social issues, and that helped her appeal across party lines against tough opposition in 2008. But Obama won 54 percent in that seat; he took 61 percent of the vote in the new seat. Obama probably won't do as well this year, but that still makes it tough to figure out the math necessary for Biggert to beat well-funded ex-Rep. Bill Foster.

23. IL-12 (Open D, Rep. Jerry Costello retiring): Though the district voted for both John Kerry and Barack Obama for president, Southern Illinois is exactly the type of predominantly white, working-class place where Democrats have had serious trouble recently. Republicans think businessman Jason Plummer can wrestle the seat away for them. Democratic nominee Bill Enyart, who commanded the Illinois National Guard, joined the race just weeks ago after the Democratic primary winner dropped out for health reasons. Enyart seems like a great recruit so far, but he has a lot of money and name identification to make up in a hurry.

53. IL-13 (R, Rep. Tim Johnson): Republican nominee Rodney Davis has never appeared on the district's ballot; GOP county chairs chose him to replace Johnson after the incumbent declined to run in the general after winning the primary. But Democratic nominee David Gill might have appeared before voters too many times. He lost to Johnson three times in the last decade, and a more Democratic district might not be enough to boost him over Davis this year.
Thoughts?
* A fundraising chart from Crain's…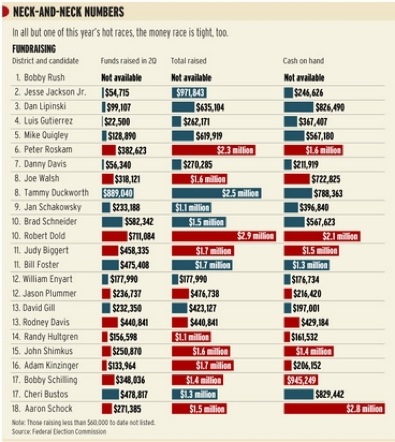 * More…
The only candidate to have a clear fundraising advantage is freshman Rep. Robert Dold.

The North Shore Republican had more than $2.1 million in the bank after hauling in $711,084 in the three months ended June 30, according to the latest campaign finance reports.

His Democratic opponent from Deerfield, management consultant Brad Schneider, raised almost as much in the quarter — $582,342 — but had only $567,623 in cash on hand after spending most of the $1.5 million he's raised so far on a tough primary. […]

In the open downstate seat of retiring Rep. Tim Johnson, R-Urbana, Republican candidate Rodney Davis has outraised Democrat David Gill by almost 2-to-1, making it less likely to become one of the state's hottest races.
…Adding… Oops. I forgot to make mention of the Tribune's scathing editorial about Joe Walsh…
Our "true heroes"? As opposed to what, exactly?

Walsh's opponent is Democrat Tammy Duckworth, who flew combat missions in Iraq as a member of the Illinois Army National Guard. In 2004, Duckworth was piloting a Black Hawk helicopter when it was hit by a rocket-propelled grenade fired by insurgents. She guided the aircraft safely to the ground, then passed out from loss of blood. Her comrades dragged her from the wreckage, wrapped her in bandages and whisked her to safety. Duckworth, who lost both of her legs in the attack, was awarded the Purple Heart.

Those are facts.

A military website interviewed her a few weeks after the attack.

"I hope this is the worst thing that happens to anyone in the 106th during this deployment," she said. "This is not so bad. There is always somebody worse off than you are. I'm just glad it was me and not one of my guys out there."

Now what was that, Rep. Walsh, about true heroes?
24 Comments







































































Sorry, comments for this post are now closed.