* Republican Congressman Bobby Schilling has a new TV ad that ties Democrat Cheri Bustos to Gov. Pat Quinn and China. Rate it…
* Script…
Narrator: Cheri Bustos and Pat Quinn, killing Illinois jobs.

In Washington, Bustos would support higher taxes on local businesses.

Just like Quinn. Bustos supports a bring-back tax on job creators, resulting in even more area jobs being shipped overseas.

The same Cheri Bustos who personally profits from foreign investments. The top contributor to Bustos' investment plan? A Chinese overseas land and investment company.

We're stuck with Pat Quinn. We just can't afford Cheri Bustos.
Quinn is hugely unpopular everywhere, so that ad ain't good for Bustos at all. And Schilling employs a clever visual with that fake "Cheri Bustos endorsed by PAT QUINN" billboard in the background…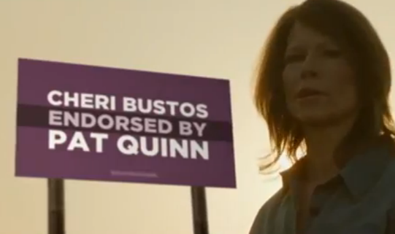 Like I always say, turn off the sound to best rate a TV ad's effectiveness. And that billboard works quite well with the sound off.
* I asked the Schilling campaign to provide details of the Chinese company mentioned in the ad. They pointed to Bustos' financial disclosure statement which lists the Janus Overseas Fund. Bustos reported having between $15,000 to $50,000 invested in the fund.
From page 4 of that fund's 2nd Quarter 2012 report…
China Overseas Land and Investment: We believe this leading Chinese homebuilder benefits from its strong brand and capital base, its ability to purchase land well, and a diversified land bank, especially in second tier cities which offer some of the best long­term growth opportunities.
The Schilling campaign didn't point it out, but this is also from page 4…
Li & Fung: We like the Hong Kong­ based outsourcing and logistics company for its global leadership position in sourcing logistics for retailers. The company continues to grow through market share gains, new outsourcing customers and acquisitions.
I've asked the Bustos campaign for a response. They're researching it as I write this. But Bustos should've cleansed her portfolio of that fund a long time ago. No excuse there.
* I mentioned the Hong Kong outsourcing company because, as the Schilling ad clearly shows, outsourcing is a huge issue in this campaign. The Bustos operation has a fact sheet on Schilling's outsourcing record. Click here to read it.
* And speaking of outsourcing, Bustos has a new TV ad which claims that "Congressman Schilling wants to keep using our tax dollars to reward companies for shipping jobs overseas, and I'll stop them." Have a look…
* The 17th District contains a whole lot of manufacturing plants and unionized workers…
Democratic Congressional candidate Cheri Bustos turned her attention to job creation and trade policy in a conference call with reporters Monday, enlisting the help of former Maytag employee Dave Bevard to spell out a policy agenda that would reward companies for manufacturing in America.

"I know that we have the best workers and that they can compete with anyone as long as there is a level playing field," Bustos said. "The problem is, that in Washington, Congress has passed legislation that makes an uneven playing field." […]

"Congressman Schilling voted for trade deals that will result in more jobs going overseas and he supports tax breaks for companies that ship jobs abroad," she said. "I support common sense reforms to end tax breaks for companies that ship jobs overseas and I support providing tax incentives to companies that want to move back to the U.S."
* Schilling's retort…
"There's a reason why John Deere and Caterpillar support me, and why major manufacturers in Rockford support me. We're in a global market. Five percent of our customers are in America, 95 percent are outside. She wants a 'bring back tax,' so that when companies want to bring money back here, she wants to tax them, which incentivizes them to keep that money offshore," Schilling said.

Schilling said he recently met with the CFO of NCR, Inc., about bringing jobs back to the U.S. from India.

"They've got 25,000 jobs in India, and they want to re-shore those. He said we should simplify the tax code, bring the corporate rate down from 35 percent – the highest in the world – to 20 to 25 percent. He said they're OK with regulation, but not overregulation. Overregulation is crushing them. That's the only incentives they need," Schilling said.
* In other 17th District outsourcing news, Bustos' campaign sent out this press release and video today…
In a stunning display of disrespect, Congressman Bobby Schilling yesterday walked out on voters and refused to answer questions about outsourcing and jobs at a town hall meeting in Freeport, Ill. The video can be seen here: http://bit.ly/PTuYGg

The workers were participating in a Congressman Schilling's town hall in Freeport, where Sensata Technologies, a company owned by Bain Capital that plans to ship 170 jobs from the Freeport Sensata plant to China. Specifically, the workers asked Congressman Schilling if he would support the "Bring American Jobs Home Act" – common-sense legislation that would closes tax loopholes for companies that send jobs overseas and create tax incentives for companies to bring jobs back home.

Congressman Schilling has protected tax breaks for companies that ship American jobs abroad, while Democrat Cheri Bustos supports the Bring American Jobs Home Act and other efforts to create jobs here in Illinois.

Congressman Schilling's willingness to walk out on local workers at the same time he became the Number One spender on Capitol Hill for using taxpayers' hard-earned money on campaign style mass mailings demonstrates he has the wrong priorities.

"It is absolutely inexcusable for Congressman Schilling to walk out on Freeport workers when he supports the failed policies that are costing them their jobs," said Bustos Campaign Manager Allison Jaslow. "Congressman Schilling has spent more than any other member of Congress on taxpayer-funded mailings to help him keep his job, but when he has to face simple questions about his record of giving tax breaks to companies that outsource jobs, Congressman Schilling walks out."

"Congressman Schilling has the wrong priorities - he has no problem spending our money in an effort to keep his job while at the same time voting to send good-paying Illinois jobs overseas," said Jaslow.
* The video…
Looks like things got pretty darned heated on the workers' side.
* From Schilling's campaign manager…
We had requested a meeting with Sensata workers last Thursday. They rejected it because they felt it wouldn't do any good.

So we had a meeting with farmers at the Stephenson County Farm Bureau. The Sensata people sat in the front row. Bobby opened it up to questions and the next thing I knew, they had 3 video cameras out and started chanting and disrupting the whole meeting.

We faked them out and continued the meeting after they pulled their stunt.

If they were serious about getting their jobs back, they would have taken us up on our offer to meet last week.
A bit on the harsh side, but he was frank, at least.
*** UPDATE *** The Schilling campaign has released the complete video of the town hall meeting…
[ *** End Of Update *** ]
* And, finally, the Telegraph Herald has pundit rankings for this race…
llinois-17: Bobby Schilling-R (i) vs. Cheri Bustos

Roll Call: Tossup

Cook: Republican tossup
* And…
Pollsters at the Rothenburg Political Report have moved the dial on their prediction for the 17th District from "lean Democrat" to "tossup/tilt Democrat."

The change is good news for U.S. Rep. Bobby Schilling, R-Colona, who has a battle to hold onto his seat against Democrat Cheri Bustos in a district widely viewed as favoring Democrats.

In changing its rating on the 17th District, the Rothenburg Political Report said, "This Quad-Cities seat may be Republicans' best chance of saving their trio of surprise freshmen in the Land of Lincoln, and both parties are already spending heavily and will continue to do so. The district looks like a Democratic bastion on paper, but Schilling is a terrific campaigner."
21 Comments






























































Sorry, comments for this post are now closed.