* I've seen this billboard lately near the Metro East…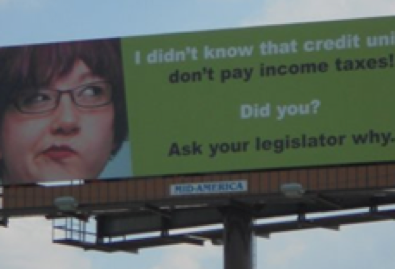 If you can't read the sign, it says…
I didn't know that credit unions don't pay income taxes!

Did you?

Ask your legislator why
* And now there's a radio ad running in the region. Have a listen…
* Script…
Man: I heard something really interesting today. A family of four, like ours, pays more income tax than all of the credit unions in the state combined.

Woman: That's amazing! I didn't realize that credit unions don't pay taxes.

Man: It's true. Get this. The tax subsidy for credit unions is more than $1.5 billion a year. And that's just federal income taxes. They don't pay state taxes, either. That subsidy could go a long way to solving the state's budget problems.

Woman: Well I'm glad we do business with our local bank. Do you know that bank employees just spent the day at Chrissie's school talking to all the kids about financial literacy? And they're even going to sponsor Tom's soccer team.

Man: Our bank sure does a lot in this community.

Woman: They sure do. In my opinion, if credit unions really want to do business in our community, like banks do, they're going to have to step up to the plate and pay taxes like the rest of us.

Man: Your family should not pay more in taxes than the credit union down the street. Let your elected officials know that you say "No" to credit union tax exemption.

Brought to you by the Illinois Bankers Association.
Credit unions are not-for-profit companies, so they don't pay income taxes. But pretty much anybody can join a credit union these days, and the banks have been complaining about unfair competition.
We haven't had a real knock-down, drag-out fight between the bankers and the credit unions in a while. Expect to hear more about this issue next spring.
47 Comments












































































































































Sorry, comments for this post are now closed.