* The Tribune's latest poll shows Gov. Pat Quinn with a 26 percent job approval rating. Let's look to history, shall we?…
In October 2002, a Tribune poll showed Governor George Ryan had an approval rating of 23-percent,
So, Quinn's only three points higher than a guy who was obviously headed toward conviction? Yeesh. But at least he's polling better than Rod Blagojevich was a little over a month before he was arrested by the FBI…
The Chicago Tribune reports 13-percent of 500 Illinois voters polled think Governor Rod Blagojevich is doing a good job.
Quinn's 26 percent is two points lower than his previous Tribune poll low of 28 percent in September of 2010. But, he still won his election that November.
* On to the Tribune's graphics…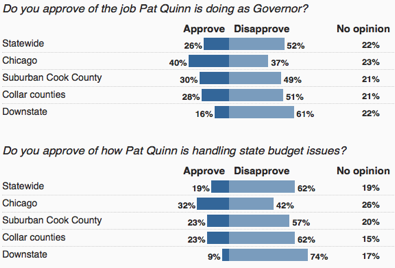 Oy.
27 Comments
















































































Sorry, comments for this post are now closed.