* The Southern Illinoisan has declared that "coal" is the number one issue in the 12th Congressional District race, and so it endorsed Jason Plummer…
Coal is the biggest issue in the vote for the 12th Congressional District and Plummer is the most aggressive in promoting the potential for Southern Illinois coal.
An industry that employs 4,400 people in a region that's thousands of square miles is the number one campaign issue?
OK.
* The paper's editorial board believes that Plummer will grow in office…
Plummer gets the nod over Enyart, even though the former general might initially be a more influential voice for the district because of his depth of experience and military connections. The latter would serve the district well in charting a sustained future for Scott Air Force Base. But Plummer is no stranger to Scott; it is the base he serves as a Naval Reserve officer. And his tenacity and tireless nature as a campaigner are characteristics likely to carry over into congress, serving constituents and transforming the freshman congressman into an eventual leader.

It also is worth noting that with the near-certain re-election of Republican U.S. Rep. John Shimkus to the 19th Congressional District, the region would be represented consistently by GOP congressmen. Teamwork will aid the district and it is more easily achieved by members of the same political party.
…Adding… The St. Louis Post-Dispatch endorsed Enyart…
Mr. Plummer shows energy, enthusiasm and a passion for becoming the district's next U.S. representative. He has studied the material, traveled the district and become conversant on the talking points he needs to sound like a serious candidate.

Strip away that veneer, however, and you come away with a paint-by-numbers conservative who signed the anti-tax crusader Grover Norquist "no tax increase" pledge. Mr. Plummer's protest that he signed it only after his competitor had accused him of signing isn't much of an explanation. Having run for lieutenant governor just two years ago, he remains more conversant with state issues than national.
* Meanwhile, Plummer is advertising on Facebook…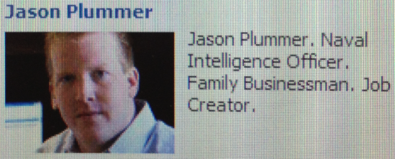 * Related…
* Enyart accuses GOP rival Plummer of taking tax break for home where he doesn't reside

* Enyart Accuses Plummer of Tax Evasion

* Enyart claims Plummer campaign a tax cheat
60 Comments



















































































































































































Sorry, comments for this post are now closed.