* Be careful when you read stuff like this report from the Associated Press on Illinois' exit polling data…
When it comes to the idea of raising income taxes, about half felt that families making over $250,000 a year could afford to pay a little more. About four in 10 wanted to see tax rates frozen for everyone, while few backed the idea of an across-the-board tax hike.
If you look at the actual numbers, you'll see this result is based on just 196 respondents. So, you cannot really trust that result. 1,009 people were polled Tuesday, so the high-number results were likely quite accurate. But stuff like this isn't…
Efforts to dismantle a 16-year ban on same-sex marriage in Illinois may be gaining support. Two years after the state legalized civil unions, more than half of voters said the state should legally recognize same-sex marriages. No issues involving same-sex marriage or civil unions were on the ballot.

Illegal immigrants wanting a chance to apply for permanent residency appear to have Illinois in their corner. More than 70% of voters say illegal immigrants working in the U.S. should be given a chance to apply for legal status.
196 respondents for the gay marriage question and just 188 respondents for the immigration question.
* This question had 377 respondents, so it's probably worth a look…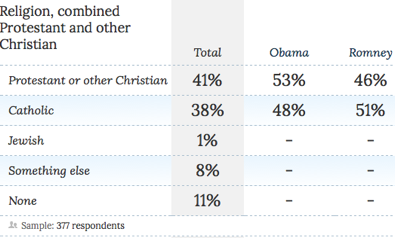 * Let's compare those results to 2008…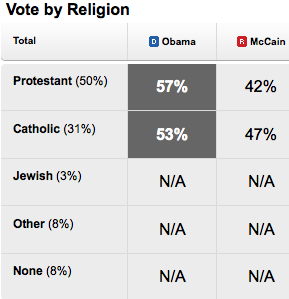 Definite slippage among Catholics, so the bishops should be somewhat happy. But Obama also slipped among white voters overall this year, so that may explain at least part of the Catholic result.
Discuss.
10 Comments





























Sorry, comments for this post are now closed.