* From Treasurer Dan Rutherford's campaign website…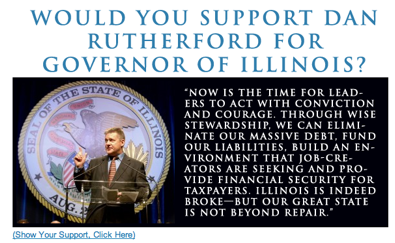 * The Tribune noticed…
Rutherford, 57, of Chenoa, said the use of his web site, Facebook and Twitter was not a formal announcement.

"I've had a lot of people say you ought to be in. And if people want to sign up and show their support, that would help me evaluate," Rutherford said. "It was posted on a Sunday morning, but within nine minutes on a Sunday morning, 40 people signed up."

Rutherford said that after hard-fought contests for president, Congress and the state legislature last month, he believed Illinois citizens aren't ready for another campaign to begin. Instead, he indicated any formal announcement would occur after the Jan. 21 presidential inaugural festivities in Washington.
* As always, Rutherford is actively participating in the online discussion. For example, under a Facebook photo he posted of the Naperville Area Republican Women Organization holiday party we see this comment…

Who was the one person to "like" the comment? Well, of course you already know…

* And he's been retweeting positive messages…
@rutherforddan is the type of person we need to run this state. He has the experience, knowledge, and skill to be a great Governor!#IL2014

— Brett Bradley (@BrettMBradley) December 2, 2012
* Also, I just can't help myself. I have to post this recent Rutherford Facebook photo…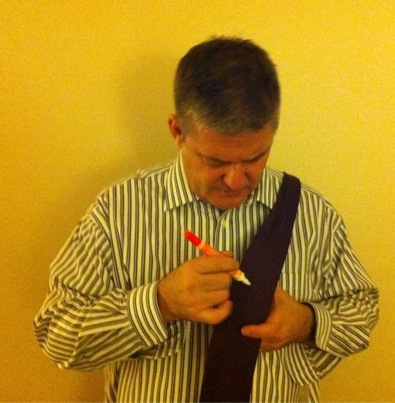 The Treasurer's caption…
Tide Stick got me through the spot on the tie today, but later that night I knew the spot was still there. I had to go at it again. Have you ever spotted and needed to Tide?
Your caption?
52 Comments



























































































































































Sorry, comments for this post are now closed.