The state council of the Service Employees International Union, or SEIU, has approved a $500,000 plan seeking to demonize Mr. Emanuel as "the national poster child for Neo-Liberals who are hell-bent on adopting regressive policies."

That language comes from a document approved by the SEIU council — a document whose authenticity I have confirmed. It calls for spending $100,000 on polling and "opposition research" aimed at Mr. Emanuel, and $200,000 each on "targeted ward work" and paid communications, including texting, radio ads and posters on Chicago Transit Authority buses and trains.

In a phone interview, council President Tom Balanoff declined to comment on what might be in the council's budget. But Mr. Balanoff, whose union was neutral in Mr. Emanuel's 2011 election race, wasn't at all shy about attacking the mayor, who recently implemented a new maintenance contract at O'Hare International Airport that the union considers deeply flawed.

"I think he's trying to save some money, and he's taking it out of people who can least afford it," Mr. Balanoff said. "And at the airport, he's not saving (taxpayers) money, he's saving airlines money," since all revenue the city gets from O'Hare is plowed back into airport operations rather than going to the general city operating budget. […]

According to Mr. Balanoff, the contract, which covers private firms that clean O'Hare domestic terminals, is shortchanging workers on pay, health care and other benefits. A similar pact for maintenance services at police stations resulted in workers being shifted to part-time work of less than 30 hours a week, which allows their employers to avoid paying for their health insurance under provisions of the president's national health insurance program. […]

Adds the [Emanuel] spokeswoman: "It is very unfortunate that the SEIU leadership has decided to spend a half-million dollars on an investigation to smear the mayor instead of focusing their attention on helping their members, organizing the new janitors at O'Hare or providing other important job resources. The mayor remains steadfastly focused on and committed to what really matters: collaborating with labor unions to save and create thousands of new jobs in Chicago, not false attacks and smear campaigns."
using the City's procurement process to take advantage of a loophole in Obamacare to jettison the health insurance costs of many city contract work. Essentially, Rahm is doing the same thing to city contract workers that Applebee's, Denny's, Papa John's Pizza and so many other Right Wing nationalemployers have announced they are doing to their workers in the lead-up to the implementation of Obamacare.

In the coming months, the national news will be dominated by these types of stories. We feel strongly that Rahm Emanuel can be made the national "poster child" for Neo-Liberals who are hell-bent on adopting these regressive policies that are designed solely to delay or even stop the implementation of Obamacare.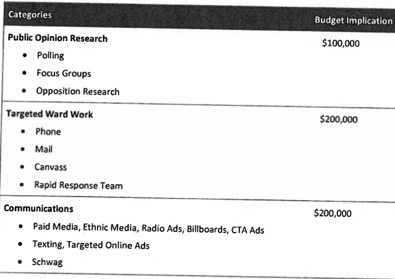 For several weeks, the workers, represented by SEIU* Local 1, and their advocates have called on Mayor Rahm Emanuel to rebid a contract with a janitorial company that slashed hourly wages to $11.90 from a pay range of $12.05 to $15.45. The $99 million contract also cuts employee health benefits, changing them from family health care plans to individual plans that cost hundreds of dollars more to include family members. The city is not saving any money under the contract, according to SEIU Local 1 President Tom Balanoff, because the funds that pay for the contract comes from the airport's airlines.

The contract also failed to ensure that the workers, many of whom have worked at O'Hare for several years, would keep their jobs; instead allowing the company to offer an "open enrollment" process, which required the workers to reapply for their jobs. Only a handful, approximately 20 to 30, of the more than 300 workers have been rehired to continue working at the airport.
15 Comments












































Sorry, comments for this post are now closed.