* From a new Heartland Alliance study of Illinois poverty…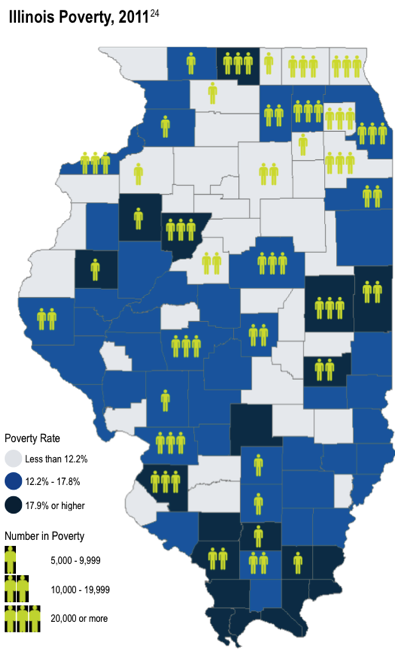 * Chicago neighborhood poverty rates…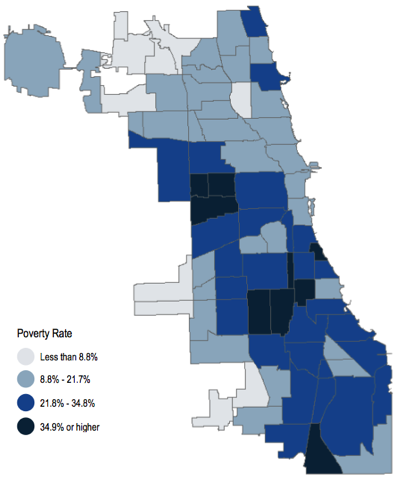 * And then there's the County Well-Being Index…
The County Well-Being Index highlights counties that are experiencing particularly negative conditions and trends on four key indicators: poverty, unemployment, teen births, and high school graduation.

Counties in Illinois are evaluated using a point system, with a higher number of points indicating a worse score. A county receives a point if its rate is worse than the state average and/or if it has worsened since the previous year.
Light orange counties are on the Poverty Watch List. Dark Orange are on the Poverty Warning List…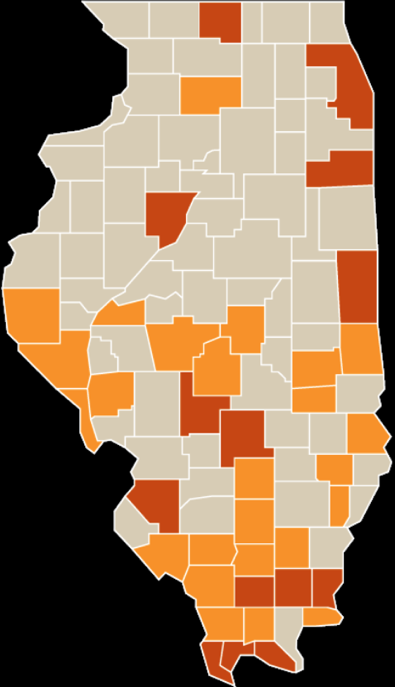 * Other stats from the report…
Nearly half of all private sector employees in Illinois don't have access to paid sick leave, which poses particular challenges for women with caregiving responsibilities.

Since the recession began, the number of homeless students enrolled in Illinois public schools has increased 48%.

Over half of all private sector workers in Illinois lack access to an employment-based retirement plan, and lower-wage workers are the least likely to have access.
* Coverage…
* One in three Illinois residents in or near poverty, according to Heartland Alliance report

* Illinois Poverty Rate 2012: One-Third Of State's Residents Considered Poor According To New Report

* 1 in 3 Illinoisans lives in or near poverty level: report
15 Comments












































Sorry, comments for this post are now closed.