* Adam Andrzejewski has been getting some media coverage the past couple of weeks over a lawsuit he filed against Comptroller Judy Baar Topinka…
Nine months ago, our organization, For the Good of Illinois, filed a Freedom of Information Act request asking Republican Illinois Comptroller Judy Baar-Topinka to send us one year of the state's checkbook. We were simply seeking to share state expenditures with Illinois citizens through our online database. Our request for this information was rejected.

The comptroller asserted "review, redaction, and arrangement of all 2011 vendor payments would take multiple staff members, dedicated solely to this request, more than three days to complete." Topinka's office concluded that fulfilling the request was an "undue burden."

This conclusion is not credible, and her refusal is against both the spirit and the letter of the law. Is the comptroller really going to argue that in this electronic age state government can't produce a timely and organized checkbook? Is the comptroller's office really that much of a mess? The fact our FOIA request is being denied by the state's top financial officer because it's inconvenient is inexcusable. Or is Topinka trying to hide something?

Here in Illinois, income tax rates rise as fast as 67 percent overnight and property taxes double every ten years. You would think citizens should at least have access to detailed information showing how their tax dollars are being spent. The state's checkbook should be public information.
* Topinka responded via her own op-ed…
(T)he state database tracking revenues and expenditures includes confidential information that the law prohibits from being given out — things like Social Security numbers and information about tax refunds, public aid and foster care payments, worker's comp and unemployment checks. A "complete data dump" would be illegal.
Topinka is absolutely correct. She can't just hand over things like everybody's individual tax refund checks. No way. And Andrzejewski ought to know better than to ask for stuff like that.
* But in corresponding with Topinka's office, it became clear that they could take some time to write a program which would weed out all the protected classes of information. In other words, they could give him all the individual checks for everything except what is protected by state law. There would be no individual check copies of tax refunds or such stuff, just aggregate amounts. It would be an effort, but they could do it. It would certainly be a lot easier than redacting each, individual record.
* So, I told Andrzejewski that I'd noticed that the two sides seemed to be talking past each other. Would he accept the raw data used by the comptroller's website that didn't include the info that couldn't by law be disclosed? His e-mailed response…
This appears to be welcome news…

However, as you know, the information we requested goes beyond the information available on the Comptroller's website. While it is our preference to reach an amicable resolution, doing so requires the Comptroller to produce all of the information responsive to our FOIA request.

The Comptroller apparently told you that it could provide the data showing individual payments. This information must certainly exist, and there should not be any "probability" involved. The Comptroller must possess a record of each payment the State of Illinois made, to whom it was made, when it was made, and the amount of each payment. This is all information which the public has a right to know, and it is all subject to FOIA.

You mention that providing this information could "take some time." However, we sent the Comptroller our FOIA request nine months ago. We are willing to be reasonable on timing, but we expect the information to be provided over a reasonable amount of days, not multiple weeks or months. The Comptroller does not have to format the data in any way. We can work with the raw data as it is kept by the Comptroller. Chicago provided 10 years and nearly 7 million individual transactions in approximately 10 days.

The FOIA statute provides for the recovery of attorney's fees and costs. The Comptroller has already caused us to incur substantial fees and expenses. These must be reimbursed in order to resolve our case.
"Substantial fees and expenses"? C'mon. Andrzejewski the conservative "cut the budget" millionaire now wants to ding the taxpayers for legal fees? Just settle this thing, for crying out loud.
…Adding… Andrzejewski's Facebook profile photo…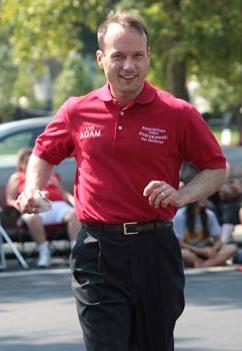 Caption?
89 Comments










































































































































































































































































Sorry, comments for this post are now closed.