* Not good…
Between 2009 and 2012, Illinois slashed funding for community mental-health programs by more than 30 percent — more than all but three other states, according to the National Alliance on Mental Illness. Even before those cuts, Illinois' per capita spending on mental health was about $85 — well below the national average of about $123 per person, the group found.

The funding situation has made it difficult, if not impossible, for people who aren't in crisis or eligible for Medicaid to enter the system, says Lora Thomas, director of the National Alliance on Mental Illness of Illinois.

And while there's no way to predict when a tragedy like the recent shootings in Connecticut and Colorado might occur — or even if the perpetrator will be someone with a mental illness — the lack of resources in Illinois makes it less likely a mental-health provider could intervene.

"We absolutely know the system in Illinois is so broken there is no community-based system that could catch or prevent it," Thomas said.
* Wow…
The state of Michigan lost 42,000 union members from 2011 to 2012, the ninth largest drop in the country, according to a Jan. 23 report by the U.S. Bureau of Labor Statistics.

Illinois had the largest drop in the country with a loss of 75,000 union members.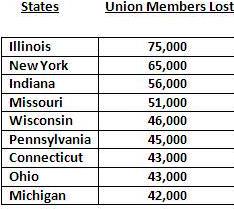 Raw BLS data is here.
* That's a lot of TIF districts, man…
It has been 13 years since Illinois lawmakers approved a significant overhaul of the law that allows cities to create tax increment financing districts.

State Rep. John Bradley, a Democrat from Marion, plans to introduce legislation this spring to bring changes to the state's TIF laws.

A year ago, TIF reform shepherded by Bradley ran aground amid disagreements by those involved in the locally managed economic development program that continues to surge in popularity.

At the end of 1990, there were 238 TIF districts in the state. By 2006, that number had grown to nearly 1,000. Now the number stands at 1,221, according to figures collected by the Illinois comptroller's office. […]

Under Bradley's proposal, cities would be required to submit annual reports that would include the jobs created or kept within the district; tightened control over the transfer of funds between TIF districts; required cities to return any surplus TIF funds to taxing districts within the TIF; require property tax bills to reflect when a property is included in a TIF district; and created a state website so people could look up information about individual districts.
* This was a ton of money spent for a hat that may not have belonged to Lincoln…
For the next six months, the presidential museum honoring Abraham Lincoln wants visitors to believe one thing when they see the iconic $6.5 million beaver-fur stovepipe hat put on display this past week.

The hat was his. Really.

To mark Lincoln's 204th birthday, the museum is bringing the hat out of storage for the first time since the Chicago Sun-Times last April questioned the prized showpiece's authenticity and for the first time disclosed holes in its provenance.

But not even the slightest doubt is reflected on the sign now attached to the hat's display case. The placard that went up with the hat on Wednesday explains its background in eight sentences, noting that only three of Lincoln's famous stovepipe hats are known to exist: "2 silk ones from his last days of life, and this."

"There's no deception at all," said Chris Wills, a spokesman for the museum.
* Related and a roundup…
* Chicago's growth trails most big cities

* Springfield session begins with full plate of money woes

* Tom Kacich: Jakobsson to push graduated income tax

* Stunt bill not a stunt?

* Fraud concerns linger over new Ill. license law

* Illinois illegal immigrant driver's licenses available in 10 months

* Gov. Quinn signs bill that lets illegal immigrants get driver's licenses

* Proposal seeks to clear air about smoking in beer gardens: Koehler's proposal would require that one side of the enclosed area be constructed with material that allows smoke to pass through. But material that allows smoke to pass through hasn't been defined in building or architectural codes, Schafer said.

* IL House Considering Hydraulic Fracturing Regs

* Continental Tire plans expansion in Illinois
12 Comments



































Sorry, comments for this post are now closed.