* Daily Kos' founder is really out to get 2nd Congressional District candidate Sen. Toi Hutchinson. Markos Moulitsas has endorsed Robin Kelly and he's been posting at least daily rants on the pro-gun positions of both Hutchinson and Debbie Halvorson. Kos' latest is a now-deleted 2011 Facebook post…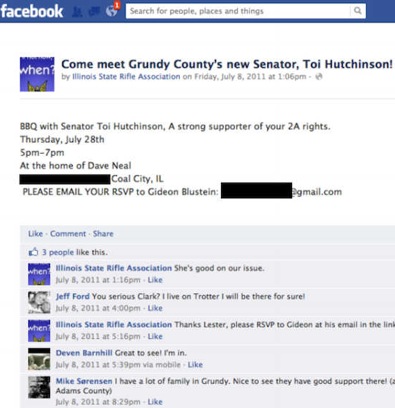 Says Kos…
The Illinois State Rifle Association is the state affiliate of the National Rifle Association, and she had no problem attending their fundraisers, scooping up their cash, and enabling their agenda in Springfield.

Yet now she wants to run from that record and claim that she's pulled a Mitt Romney—180-degree overnight conversion when politically expedient. She claims Sandy Hook made her change her mind, but 500 gun-related deaths in Chicago last year didn't?
As of this writing, Kos has raised over $61K for Kelly via Act Blue.
* In other CD2 news, Sheriff Dart has endorsed Anthony Beale…
Dart says he's been impressed with Beale as the two have worked on a number of issues, both while Dart was a state lawmaker and as sheriff. Dart and Beale scheduled a news conference Thursday.
* And Beale's campaign disputes Robin Kelly's recent poll…
"There's no way that I believe this poll is accurate," said Beale campaign spokeswoman Delmarie Cobb.

The poll… puts Kelly in the lead of top candidates in raw numbers and a statistical tie with Debbie Halvorson when the margin of error is taken into account. Previously, Halvorson had led in every poll.

Cobb's argument is voter turnout will be greatest in the city and Beale is the only city candidate in a field of 16 Democrats. The 2nd congressional district stretches into Will and Kankakee counties.

"Forty percent of the vote comes from the city. Sixty percent of the vote comes from the South Suburbs. You've got, Toi, Robin, Debbie and everybody else running for the 60 percent. Anthony has … - 98 percent of the 9th ward is in the 2nd congressional district."
I dunno. Chicago has a lot of the district's population, but most people expect city turnout to be abysmal.
Also, release your own poll if you don't like Kelly's. Give us some data.
* Related…
* Citing Gun Issue, Kelly Claims Slight Lead in Illinois Special Election

* Preckwinkle, Hutchinson in 'smear campaign,' Halvorson says

* Debbie Halvorson Says Michael Bloomberg Trying to Buy Ill. Special Election

* Mitchell: Despite Cardiss Collins pioneering spirit, black Illinois women are absent in the House
11 Comments
































Sorry, comments for this post are now closed.