* From a press release…
The Bruce Rauner Exploratory Committee announced today that it raised $1.3 million since its inception on March 5 and carried forward more than $1.2 million into the second quarter. The fundraising figures include a $249,000 contribution from Bruce Rauner.

The fundraising haul comes amidst a statewide Listening Tour that has already included 20 stops. Bruce has visited with voters in Cumberland, Coles, DuPage, Effingham, Mason, McDonough, Richland, Shelby, Tazewell, and Washington counties, and Elmhurst, South Holland and Winnetka.

"The folks I'm meeting as I travel the state understand Illinois needs a political outsider willing to take on the failed status quo in Springfield, and I'm excited by their response to my exploratory committee," said Bruce Rauner. "The amount of support we've received in less than a month exceeds expectations and underscores the fact that Illinoisans are looking for someone to bring a fresh perspective to solving the challenges facing our state."

Bruce's next stops on the Listening Tour this week include Rockford, Rosemont, and Monroe County.

"The more time I spend discussing both the hopes and the concerns of people who want to see a better Illinois, the more convinced I am that our state's future is bright," Rauner said. "The fact is Illinois' greatest resource is her people. Unfortunately, they have been let down time and again by the politicians in Springfield. It's time for an outsider."
That $249,000 contribution from Rauner means he is just $1,000 under the self-funding law. Another grand in the calendar year and all contribution caps are off for all gubernatorial candidates.
Also, I highly doubt that most of his high-dollar, often out-of-state contributors went to any of his Downstate listening tour stops. For instance…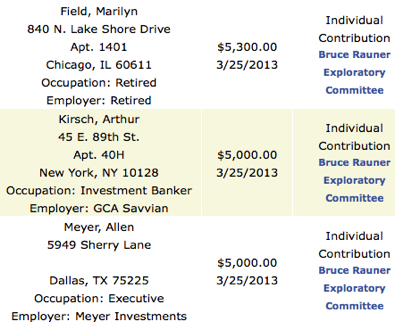 Interestingly enough, Rauner has not yet reported that contribution from himself.
* He is doing well in comparison to the other candidates, however…
$ Raised (01/01/13-03/31/13)
Brady - $2,000
Dillard -$86,958.75
Rutherford - $202,759.00
Lisa Madigan - $14,250
Quinn - $60,500
TOTAL = $366,467.75
* In other Rauner-related news, the possible GOP candidate is running a Facebook ad of a choked chicken. I kid you not…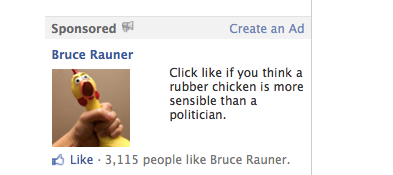 Do your very best to keep it clean in comments, please. Seriously. Let's not demean ourselves just because his ad is goofy. Go ahead and snicker first, make the joke in your own head, then proceed to comment in a very clean fashion. Thanks.
85 Comments






























































































































































































































































Sorry, comments for this post are now closed.