* Billboards are some of the least effective political advertising, but they're relatively cheap, so…
The Democratic Congressional Campaign Committee is putting up billboards in 10 House Republicans' districts accusing them of "putting radicalism and partisanship ahead of solutions for the middle class." […]

The National Republican Congressional Committee fired back.

"The only thing that's radical is the Democrats' plan to never, ever balance our nation's budget – and that's causing a lot more whiplash for voters than these silly billboards will," NRCC spokesman Daniel Scarpinato said.
From the DCCC…
"Every day when these Members' constituents drive home, they think of how they will pay their bills, support their families, and pay for their healthcare and retirement – and now they will be reminded that their Republican Member of Congress would rather put radical ideology ahead of solutions for those worries," said Emily Bittner of the Democratic Congressional Campaign Committee. "The Republican budget puts millionaires ahead of the middle class and partisanship before solutions, and now Republicans will not be able to hide from their radical records, because they are in plain view. Instead of offering bipartisan solutions, these House Republicans have chosen partisanship again."
The Davis billboard…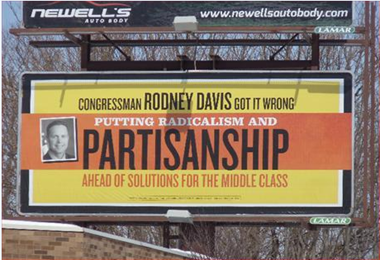 Yeah, that'll work, I'm sure.
* While the DCCC is blowing cash on a billboard, Davis raked in a pretty darned big haul…
Rep. Rodney Davis, R-Ill., raised just north of $401,000 in his first full fundraising quarter in Congress, according to figures provided exclusively to CQ Roll Call.

The freshman will report having $334,000 in cash on hand and zero debt at the end of March, which marks the deadline to close the books on the first fundraising period of the year. […]

House Democrats have actively searched for potential candidates in the 13th District, even feting a well-known circuit court judge in Washington, D.C., over inauguration weekend.

But so far, not a single Democrat has announced a bid to challenge Davis. Other potential candidates who previously indicated interest in the race include Champaign Mayor Don Gerard and former Champaign County Board Member Brendan McGinty.
I highly doubt they'll find a solid candidate there. Davis is everywhere, and that district is far more Republican in the off-years than during presidential years, partly because the district is packed with universities. If they couldn't beat him last year, it's gonna be a lot tougher to win that seat in 2014.
* Freshman Democratic Congressman Brad Schneider also raised $400K during the first quarter. Bob Dold is looking at a rematch, but that also may be tough row to hoe.
33 Comments


































































































Sorry, comments for this post are now closed.