* Here we go again…
In the latest effort to pull businesses from other states, Rick Perry is taking aim at yet another Democratic state – Illinois.

In a modest advertising buy, Perry and the TexasOne, a group sponsored by corporations and chambers of commerce, are running an incendiary message.

The print ad in a Chicago business journal urges Illinois businesses to "get out while there's still time," likening their state to a "burning building on the verge of collapse."

It ad says the state has unintentionally created an "environment designed for you to fail," and then goes on to list Texas' business-friendly attributes, including the lack of a state income tax, lower worker compensation taxes and a bigger workforce.
The Illinois Review has helpfully chimed in by posting a chart that purports to show the superiority of Texas to Illinois…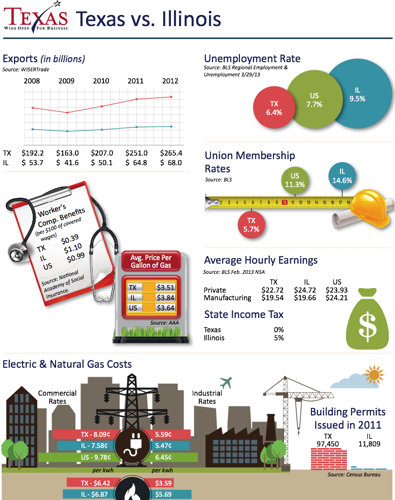 * I asked Gov. Pat Quinn's office for a response to Gov. Perry. Here it is…
We've seen this rodeo before. And if previous, similar efforts by other Republican governors are any indication – these publicity stunts don't work and they don't change the fact that businesses are choosing Illinois all the time. In fact, [today], we will announce a global corporation is choosing Illinois for its North American headquarters, in part due to Governor Quinn's Clean Water Initiative and work to make our state a global hub for water technology.

With our strong transportation network, diverse economy, vibrant manufacturing base and skilled workforce, Illinois is one of the best places to do business in the world. And when all state and local taxes are considered, Illinois has the fifth-lowest effective tax rate in the country, at 4.6%, according to a 2011 study by Ernst & Young LLP.

Under Gov. Quinn's leadership, the state has become friendlier to employers. He's done more than any other governor to restore fiscal stability after decades of mismanagement and give businesses the certainty they need to invest. His actions have included reducing the state's discretionary spending to historic lows and cutting red tape for environmental permits. Gov. Quinn successfully overhauled the worker's compensation system to save businesses billions of dollars and reduce insurance rates for Illinois companies by nine percent. And he has made international trade and foreign direct investment efforts a priority, taking several trade missions to help Illinois companies access more global markets and recruit international businesses to our state. Not to mention – Illinois is investing in its transportation system like no other state, with $44 billion in capital construction efforts well underway.

There is no doubt that when lawmakers pass pension reform and send a bill to the governor, Illinois' economy and business climate will be further strengthened. That's why we continue to focus on the hard but necessary reforms to restore fiscal stability to Illinois.

In addition - Spending taxpayer dollars on ads in hopes of poaching companies from Illinois isn't an economic development strategy. (As the New York Times pointed out in its December 2012 article on Texas' incentive practices, despite handing out more business incentives than any other state, Texas has the third-highest proportion of hourly jobs paying at or below minimum wage. http://www.nytimes.com/2012/12/03/us/winners-and-losers-in-texas.html?_r=0 )
Discuss.
*** UPDATE *** The governor's office has an addendum…
Aside from the fact that there is little to no evidence to show that these publicity stunts produce any results, here are the facts:

Illinois also has a more educated workforce and a more economically stable population.

· Percent of population that graduated high school: Illinois - 86.6%; Texas - 80.4%.
· Percent of population with bachelor's degree or higher: Illinois -30.7%; Texas-26.1%
· Percent of population living below poverty level: Illinois-13.1%; Texas 17%
53 Comments






























































































































































Sorry, comments for this post are now closed.