* From the Illinois Department of Employment Security…
The March unemployment rate was 9.5 percent, unchanged from February, according to preliminary data released today by the U.S. Bureau of Labor Statistics (BLS) and the Illinois Department of Employment Security (IDES). As expected, Illinois recorded -17,800 fewer jobs compared to February even as it added +36,600 over March 2012. The data is seasonally adjusted.

"Illinois employers were expected to report fewer positions in March. Economic uncertainty nationally and abroad dampened our country's job growth. When that happens, Illinois' share tends to be a negative number," IDES Director Jay Rowell said. "Monthly snapshots capture a moment in time. When those moments are evaluated together, we see progress away from a global recession and through a stubborn economic growth cycle marked by volatile swings in monthly data here and across our country."

The three-month moving average of job growth, a data point that smoothes monthly volatility and unpredictable or one time events, shows +1,100 jobs added each month so far this year.

Illinois has added +218,500 private sector jobs since January 2010 when job growth returned following nearly two years of consecutive monthly declines. Leading growth sectors are Professional and Business Services (+89,300); Education and Health Services (+57,800); and Trade, Transportation and Utilities (+37,000). Government has lost the most jobs since January 2010, down -26,500.
Oy…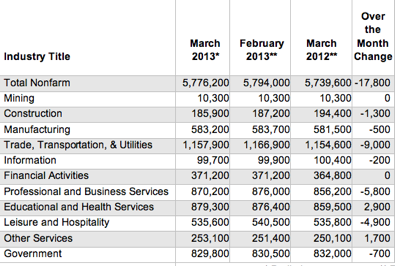 27 Comments
















































































Sorry, comments for this post are now closed.