* The latest poll from We Ask America…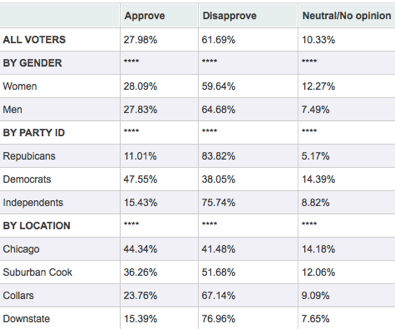 * From the pollster…
We've profiled Gov. Quinn before (Tenacious Gadfly), and not much has changed since then. Illinois continues to struggle under oppressive ($100 billion) public pension debt and multi-billion dollar budget deficits despite a sizable "temporary" state income tax now pumping more into state coffers. Quinn is often portrayed in press and the political blogosphere in terms of being hapless–not a great portrait for someone seeking re-election in tough times. Indeed, rumors continue to swirl of the possibility of fellow Democrats trying to take him out in next year's Primary. But political coroners have tagged Quinn's toe a number of times in the past only to be confounded. Will that be the case in 2014? Perhaps, but these approval numbers simply cannot be dismissed easily.

It's problematic for Gov. Quinn that support among Independent voters continues to erode for him. Again, let's be clear that these approval numbers can't be viewed as a predictor of doom. Quinn's dismal approval rating didn't stop him from winning in 2010.

But we're sure that some will look at these results and assume that Quinn can best be described as the Walking Dead.
The poll of 1,057 Likely Voters was taken yesterday and has a margin of error of +/- 3.1 percent.
21 Comments






























































Sorry, comments for this post are now closed.