* Sen. Mark Kirk was a featured speaker at yesterday's Republican Day festivities…
Seven months after returning to Congress following a debilitating stroke, U.S. Sen. Mark Kirk encouraged fellow Illinois Republicans Thursday to look to his example and "never give up" the quest to rebuild their party and recapture the governor's mansion despite public embarrassments and setbacks.

"I will not ever give up on Illinois," Kirk said, puncturing the air with his right index finger during a brief speech at Republican Day at the Illinois State Fair.

It is clear that both Kirk and the state's minority party have a difficult road ahead of them. Kirk is tasked with continued rehabilitation efforts as he makes his own re-election bid in 2016, and the Illinois GOP with projecting unity and offering an attractive alternative to Democrats at a time when the state is in dire financial straits. […]

Kirk, who is declining to make an endorsement in the governor's race, told the Associated Press that he would be encouraging party members to "adhere to the eleventh commandment of Ronald Reagan."

"Thou shalt," Kirk said, "not speak ill of a fellow Republican."
* More…
In a nod to the difficult road ahead, Republicans waved signs and chanted: "Never Give Up."

They saved their loudest applause for the man who inspired the mantra, U.S. Sen. Mark Kirk, who won cheers as the congressman, who is recovering from a stroke, walked across the stage with the aid of a cane.

"We are the ones who are going to rescue Illinois," Kirk said.
* More…
U.S. Sen. Mark Kirk, R-Ill., called his first trip to Springfield since his January 2012 stroke "great," and said he's working on legislation to improve post-stroke treatment for low-income people through government programs.

"Every time I'm below I-80, I feel like I'm in the right place on earth, talking to the people I work for," Kirk, 53, of Highland Park, told The State Journal-Register in an interview Thursday at the Illinois State Fair.

He said his condition is "excellent." He walks with a cane and said "fatigue is an issue," and he is still getting rehabilitation about three times a week.

Kirk said he is planning to offer legislation for what he calls "the stroke agenda."

"The problem is, if you have no insurance and you're low-income and you're on Medicaid in Illinois, if you suffer a stroke, you only go to a rehab specialist four times," the senator said. "That means you're not going to really improve very much. I want to set a national standard that moves the country on the way to the opportunities that I had to recover."
* I had a chance to chat with Sen. Kirk for a few minutes later in the day. He seemed very clear in the head, spoke well and was quite cheerful. He also said he plans to run for reelection. A photo…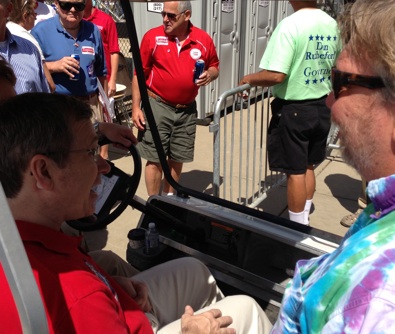 Caption?
16 Comments















































Sorry, comments for this post are now closed.