* From the Tribune…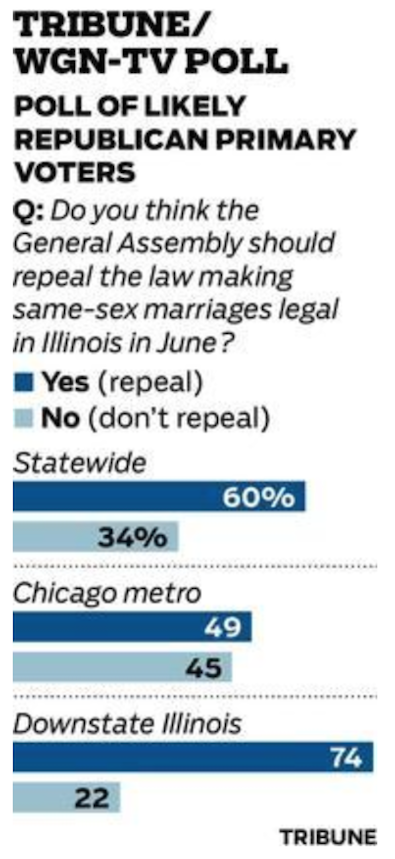 * From the polling memo, here are some percentages favoring repeal, with those who want to allow the law to stand in parentheses…
* Total: 60 percent (34)

* Metro Chicago: 49 percent (45)

* Downtate: 74 percent (22)

* Under $100K: 63 percent (32)

* Over $100K: 49 percent (49)

* Conservative: 69 percent (26)

* Moderate: 42 (53)
407 of the 600 respondents (or just over two-thirds) said they were conservatives and just 175 described themselves as moderates.
* To the Tribune's article…
The state GOP controlled the governor's mansion from 1977 to 2003, only to implode amid scandal and wander in the political wilderness ever since. The loss of a power base has seen the party's once-dominant moderate faction give way to a more pronounced rightward tilt as Illinois has become more Democratic controlled and Chicago-centric.

"It's not a very promising" landscape for Republicans, said Paul Warda, 66, a retired accountant from Lombard who lives in what once was the state's staunchest GOP bastion — DuPage County. "Republicans keep shooting themselves in the foot in their campaigns."

The poll results illustrated one example of the ongoing split over social issues within Republican ranks: the state's new same-sex marriage law, which was approved in November with three supportive Republican House members. Two of them face conservative primary challenges for re-election. The third, former House GOP leader Tom Cross, is running for state treasurer with nominal opposition in a low-key race.
Discuss.
58 Comments













































































































































































Sorry, comments for this post are now closed.