* Champion News dug up a 2003 Project Vote Smart report that claimed Sen. Kirk Dillard had a 100 percent voting record from Planned Parenthood Illinois Action…
This image speaks for itself and the voting record of Kirk Dillard on pro-life issues.
The image…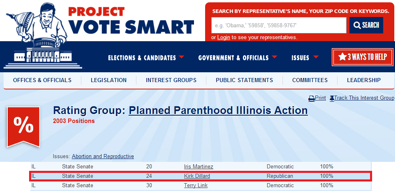 Champion News is published by Jack Roeser, who is a major Bruce Rauner supporter. Rauner describes himself as being pro-choice.
* A Dillard campaign surrogate responded via press release…
Recently the pro-life voting record of gubernatorial candidate Kirk Dillard has been called into question by a smear campaign funded by his political opponents. Yesterday, an internet blog calling itself "Champion News" used a decade-old web page to imply that Dillard was favored by abortion provider Planned Parenthood.

Pro-life leaders from around the state are outraged, and have demanded an apology from the staunchly pro-choice Bruce Rauner, who opposes Dillard in the GOP Primary March 18th.

Kirk Dillard has been a long time pro-life leader. He has sponsored parental notice legislation, championed abstinence education, and has stood up for life throughout his career in the Illinois Senate. Just last week, he was the only candidate for governor to be endorsed by Illinois Citizens for Life and Illinois Federation for Right to Life. Dillard has also been endorsed by pro-life Eagle Forum State PAC and Family-PAC. Furthermore, Dillard is supported individually by pro-life advocates state-wide, including Penny Pullen, Bonnie Quirke, Mary Anne Hackett, Liz Eilers, Sheila Devall, Reverend Bob VandenBosch, Nick Costello, and Phyllis Schlafly.

Sharee Langenstein, Illinois' pro-life representative to the Republican National Platform Committee in 2012, now serves as statewide Co-Chairman of Conservatives for Dillard. She had this to say about the anti-Dillard story: "Champion News is wholly owned by Jack Roeser, who is an open supporter of pro-abortion candidate Bruce Rauner. Rauner and his wife Diana have donated tens of thousands of dollars to pro-choice organizations including Personal PAC and Emily's List, and Rauner has donated $440,000 to Roeser's political organizations. We no more trust what Champion News has to say about pro-life candidates than we would trust Planned Parenthood. We demand an apology from Bruce Rauner for this attempt to deliberately mislead pro-life voters through the Champion News blog."
* OK, what the heck is this about? I mean, Dillard has, indeed, been a pro-life legislator his entire career.
So, I called Planned Parenthood and told them what was going on. They were as initially stunned as I was. Kirk Dillard had a 100 percent voting record? Really?
They checked their records and got back to me. According to Planned Parenthood, they rated Senators on just one bill in 2003. That bill required insurance companies to cover contraception.
* There are plenty on the right who oppose any governmental insurance mandates for contraception, but Dillard wasn't supporting an abortion bill, so any implication that this record implies he's pro-choice is ludicrous on its face.
37 Comments














































































































Sorry, comments for this post are now closed.