* Sen. Bill Cunningham's choice for yesterday's caption contest winner was this one by Jeff Trigg…
Does freezing Lake Michigan water stimulate the growth of hair? Ask Sen. Cunningham.
* My personal favorite was posted by Sangamon GOP…
As the rest of the Illinois GOP primary moved on, Dan Rutherford was left in an awkward position.
Sen. Cunningham has graciously donated $200 to our Special Olympics Chicago fundraising page, which put us over $5,000. I'll be making my own contribution a bit later today.
* Meanwhile, from a press release…
State Senator Daniel Biss (D-Evanston) has introduced legislation expanding restrictions enacted last year to prevent police from using aerial drones to infringe on individuals' privacy rights. His new proposal prohibits law enforcement from requiring private individuals or companies, except in certain emergencies, to hand over information gathered by drones they own. The Senate Criminal Law Committee approved the plan [yesterday], clearing the way for a vote of the full Senate.

"The need to impose restrictions on drone usage is important so that our legal protections keep pace with advances in technology," said Biss, who also sponsored last year's Freedom from Drone Surveillance Act. "As it became clear that individuals and corporations would also be using drones, we needed to put in place measures ensuring law enforcement could not bypass the warrant process by simply requisitioning footage collected by other people's drones."
* The photo included with the release…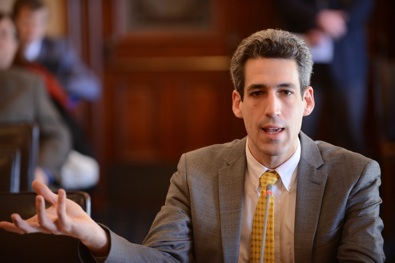 Caption?
47 Comments












































































































































Sorry, comments for this post are now closed.