* The Sun-Times goes into great detail about House Democratic mailers which attack Will Guzzardi, who's running against Rep. Toni Berrios. For example…
This week, voters in the district received the latest in a series of ads alleging that Guzzardi favors going easy on sex offenders.

The new mailer adds an odd racial twist to this line of attack. It features a photo of a young white woman with manly hands clasping her bare shoulders. You can't see the face of the person whose hands they are, but they're obviously not the hands of a white person.
* Another example…
Gov. Pat Quinn professes neutrality, but a high-ranking Quinn appointee, former 1st Ward Ald. Manny Flores, appears in Toni Berrios campaign literature, urging people to "join me in voting" for her.

It would be interesting to ask Flores how he plans to vote for Toni Berrios since he moved from the Northwest Side, to the northwest suburbs, after quitting the City Council and joining the Quinn administration. Flores has been registered to vote in Park Ridge, miles from the 39th Illinois House District, since 2012.
* But they totally accept Guzzardi's explanation about one of those attacks without question…
The attacks are based on an article that Guzzardi wrote for his college newspaper in 2006. He says the comment was taken out of context, doesn't reflect his campaign's stance and is an attempt by the incumbent to play off voter fears.
* Guzzardi links to the column on his own website…
In short, in this digital age of infinite proliferation of data, expungement is a fantasy. The blank slate it once offered to those convicted of minor offenses is more like the old whiteboard on my dorm room door: though you might try to wipe it clean, there will always be some traces of what used to be written there.

If there were ever an issue for which civil rights groups on campus should get up in arms, this is it. Just like denying ex-convicts voting rights or sex offender tracking and registration, this is an instance of societal double jeopardy. These offenders have made an agreement with the justice system about the recompense they owe society for their transgression; having paid it, they should be able to return to society as members in good standing. Instead, they are dogged by their conviction for the rest of their lives.
Emphasis added to show this wasn't "taken out of context." He wrote what he wrote.
* To be clear, Guzzardi has been running away as fast as he can from that column. And it was, after all, a college newspaper column for crying out loud. The Fraternal Order of Police, Chicago Lodge #7 has endorsed him, which pretty much blows that "soft on predators" attack out of the water.
But the sex offender stuff was clearly not taken out of context.
* However, the Sun-Times does have a valid point about the mailer adding an "odd racial twist." Here it is…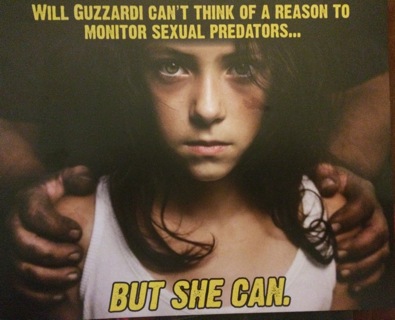 Ugly.
Just ugly.
*** UPDATE *** From a commenter…
So Mark Kirk is somehow not trying to appeal to the worst, most racist elements of human nature when he used the exact same photo, right?
The commenter is correct. Go have a look.
105 Comments


























































































































































































































































































































Sorry, comments for this post are now closed.