* Illinois Review has been posting mail sent by anti Bruce Rauner organizations. Check out the Teamsters' mailer by clicking here.
* And Steve Shearer's union-funded Fund for Progress and Jobs sent a pro-life mailer attacking Rauner to GOP households…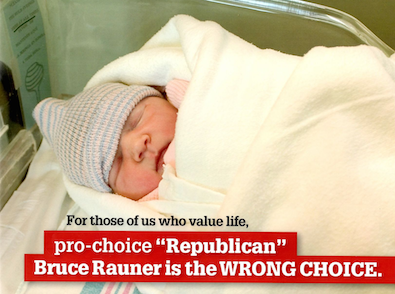 * Shearer recently changed his PAC's name, dropping the word "Republican" from the beginning. That may be because of a cease and desist letter he received from the Illinois Republican Party a few weeks ago…
As you know, the State Party is vested with the authority to authorize an organization's use of the word "Republican" in Illinois, and we take the use of the name seriously. In fact, on January 18, 2014, the Illinois Republican State Central Committee voted unanimously to authorize a review of the Committee's use of the name "Republican," and to resort to all legal means to protect the interests of the Illinois Republican Party.

Dissembling under a "Republican" cloak with our misappropriated trademarks is a deception consistent with the politics of dishonesty and dissembling which that has brought our great state to its current crossroads.

Accordingly, we insist that the Committee cease and desist using the word "Republican" in the name of the Committee. This can be easily accomplished by filing an appropriate amendment with the Illinois State Board of Elections. Further, we insist that the Committee cease and desist using the elephant mark on any future communications.

Further, we demand that you remedy the damage the Committee has caused by sending a mailing to the recipients of your recent pamphlet forthrightly disclosing your funding sources and your partners in your "shock and awe" effort. The Committee's failure to comply with this request will force the State Party to consider all legal remedies.
I asked Shearer via e-mail last night if he intended to comply with that second demand. I'll let you know if he responds.
* Meanwhile…
The committee launched by former U.S. Rep. Aaron Schock's ex-chief of staff lives for another day in its effort to keep ads rotating on air in favor of state Sen. Kirk Dillard.

Steve Shearer, who chairs the Fund for Progress and Jobs committee, tells the Chicago Sun-Times that the Chicago Federation of Labor on Wednesday wired over a donation that will keep his efforts afloat at least for another day. Shearer did not immediately disclose the size of the contribution, however, the money will be enough as of now to keep his efforts to boost Dillard active through Friday. (The Chicago Federation of Labor later said that $50,000 went to Shearer for use in anti-Rauner efforts and not to endorse any candidate in the primary.)
Shearer's PAC hasn't filed an A-1 in about a week.
20 Comments



























































Sorry, comments for this post are now closed.