[Comments are now open on this post.]
* The Sierra Club was trying to be helpful to Democratic state Rep. Jaime Andrade in his hotly contested, multi-candidate Chicago primary. Unfortunately, they put the wrong party affiliation on the thing. Major oops…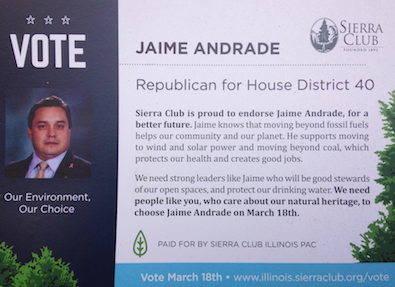 * The pro-choice group Personal PAC is using a photo of a vagina probe it its latest mailer targeting pro-life Republican House candidate Mark Batinick. I'm not gonna display it, but you can see it by clicking here. Also, I believe this same type of mailer is being used against other candidates.
Another anti-Batinick mailer is here.
* From a subscriber…
This was along a highway entrance ramp. Ferrand ran against Andrade but was kicked off the ballot by Schiavone allies. No "paid for" disclosure.
The sign…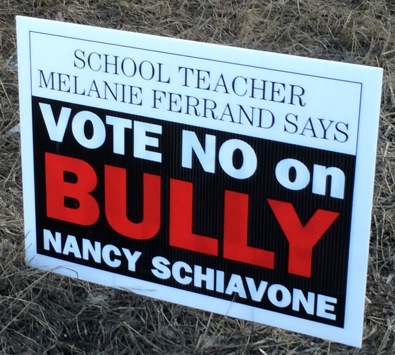 * Here's that National Organization for Marriage radio ad blasting Tom Cross. They use the voice of Jim Nalepa, of all people, to make their case…
* The IEA's robocall urging members to vote for Kirk Dillard…
* The Illinois Federation of Teachers' late mailer urging support for Dillard…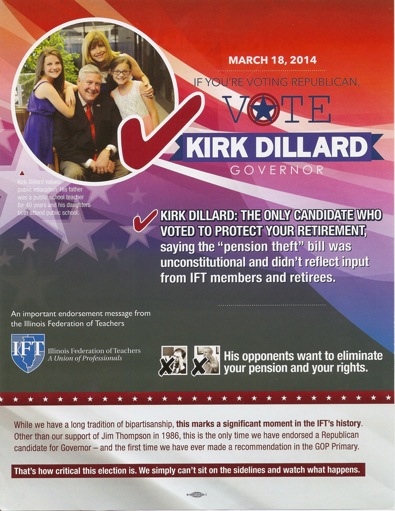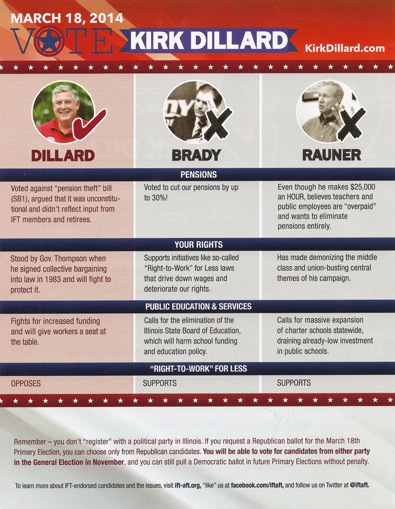 * But Bruce Rauner's campaign isn't letting up in the mail…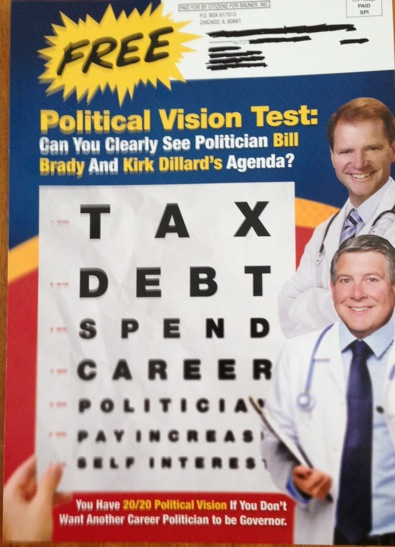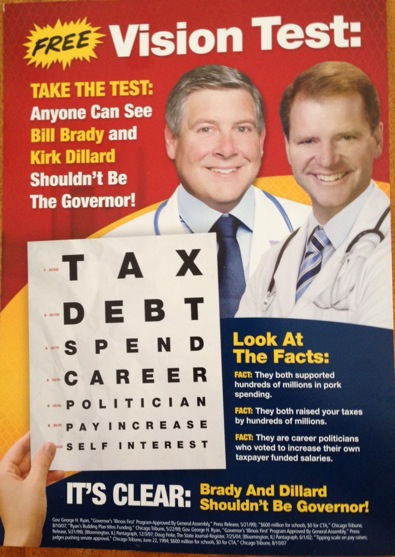 * The Windy City Times has demanded that groups using their copyrighted images stop doing so…
Windy City Times Attacks Use of Copyrighted Photos in Anti-gay 81st Distrtict Campaign

CHICAGO — Windy City Times newspaper is demanding that groups mailing bigoted, anti-gay attack fliers against state Rep. Ron Sandack immediately stop using its copyrighted photos.

Literature sent by the Illinois Family Action and the Liberty Principles PACs both use the same image of Sandack at a marriage equality rally in 2013, taken by Windy City Times staff photographer Kate Sosin. The Liberty Principles PAC also sent literature out in favor of Sandack's opponent, Keith Matune, who has criticized Sandack's support of same-sex marriage.

"Conservatives claim to respect property rights," said Tracy Baim, Publisher of Windy City Times.

"Our Constitution protects the rights of these groups to send divisive, hate-filled mailings such as these," Baim added. "But they are using our image to sell a product, hate, and we did not give them permission. We ask that they immediately stop using copyrighted photos."

The literature also attacks Sandack for receiving donations from gay groups and individuals.

Sandack was one of three House Republications among the 61 reps voting for marriage equality in Illinois last fall. He represents the 81st District in the southwest suburbs.

Windy City Times is also pursuing other options, including possible legal action, to stop the unauthorized use of its images.
That's only about a week too late, by the way.
* And the Republicans have scheduled their post-primary unity luncheon. From a press release…
On Wednesday, March 19th, the Illinois Republican Party will host a "March to Victory" luncheon following the Republican primary. Republican candidates for office and current officeholders will be on hand to address luncheon guests and the press.

"After ten years of one-party rule and five disastrous years of Pat Quinn as governor, the people of Illinois are desperate for a change," said Illinois Republican Party Chairman Jack Dorgan. "Republicans are ready, and able, and eager to deliver, and we are working together toward our shared goal of victory in November."

Who: Chairman Jack Dorgan, 2014 candidates plus elected officials [Full attendee list TBA]
What: March to Victory luncheon
When: Wednesday, March 19, 2014, 11:30 a.m.
Where: Union League Club, 65 W. Jackson Blvd., Room 710 Chicago, IL
* Other stuff…
* RAW VIDEO: Oberweis Explains Florida Getaway

* Oberweis Explains Pre-Election Trip To Florida

* Rauner: Wealth won't decide GOP governor's race

* Madigan backs lawmaker two years after expelling him

* VIDEO: Sen. Bill Brady joins Bruce and Dan

* VIDEO: Reggie Phillips Ad

* VIDEO: Shaw to run for Chicago Mayor

* VIDEO: Martin Sheen Joins Governor Quinn to Raise the Minimum Wage
9 Comments


























Sorry, comments for this post are now closed.