* Bruce Rauner spent months bashing state employees and their unions, but now wants them to help take down Gov. Pat Quinn. From a press release…
CALL (855) PAT-TIPS

Bruce Rauner's campaign today launched a statewide whistleblower tip line for citizens who wish to anonymously report incidents of corruption, including patronage hiring and misuse of state funds. The "Pat Quinn Corruption Hotline" comes amid reports that Pat Quinn and his administration are under investigation by the state's inspector general for illegal hiring practices and separately under investigation by the Cook County State's Attorney for misuse of state anti-violence funding.

On Wednesday, Gov. Quinn's lawyer confirmed to a federal judge that the state inspector general is investigating allegations of illegal patronage hiring at the Illinois Department of Transportation. Also Wednesday, the Chicago Sun-Times broke the news that the Cook County State's Attorney had issued subpoenas probing alleged misuse of funds in a Quinn anti-violence program. Yesterday, Illinois Senator Mark Kirk and several members of the congressional delegation requested a federal investigation into whether Quinn misused federal stimulus funds to subsidize or justify patronage hiring.

"Pat Quinn has expanded Rod Blagojevich's culture of corruption in Illinois and these investigations are just the tip of the iceberg," Rauner campaign spokesperson Mike Schrimpf said. "We know there are good, honest, hard-working people around Illinois who have information about Pat Quinn's corruption and patronage schemes. If you see something, say something – call the toll-free Quinn Corruption Hotline at 855-PAT-TIPS and report Pat Quinn's wrongdoing. The people of Illinois deserve to know the truth."

The Quinn Corruption Hotline accepts anonymous tips. Caller identities will be protected to prevent political retaliation. Tips can also be emailed to stopcorruption@brucerauner.com.

Later today, from 11:30am to 12:30pm, Rauner campaign volunteers will be outside the James R. Thompson Center (100 W. Randolph Street, Chicago) to distribute information about the hotline to state employees during their lunch breaks. Media are invited to film b-roll.
Discuss.
*** UPDATED x1 *** Gov. Quinn established a similar thing in 2009…
Governor Pat Quinn backs government watchdogs
Launches Whistleblower.Illinois.gov to crack down on corruption

CHICAGO – April 15, 2009. Governor Pat Quinn is urging government employees and taxpayers to demand integrity and honesty in state government by blowing the whistle on corruption. To advance this effort, Governor Quinn is launching Whistleblower.Illinois.gov, an interactive website that allows watchdogs to easily report suspected government corruption.

"Today is the deadline for filing U.S. tax returns that support and pay for our government. So it's especially fitting that we demand our elected officials always operate in the taxpayers' interest," said Governor Quinn. "When an official betrays the public's trust, it's often a whistleblower that helps bring that injustice out in the open."

Governor Quinn added that those who blow the whistle on waste and fraud in government are protected from official retribution by the Illinois Whistleblower Reward and Protection Act. In 1991, then-State Treasurer Quinn spearheaded passage of the Illinois whistleblower law.

In 2008, the Illinois Whistleblower Act was expanded to include all levels of government in the state. Since the act was strengthened, the state can collect up to three times the amount lost to fraud, along with fines up to $10,000. A whistleblower can get up to 30% of the amount recovered as a reward for upon completion of a successful whistleblower suit.

The new website, Whistleblower.Illinois.gov, provides concerned citizens details on the Illinois Whistleblower Act and advice on how to report corruption.
* Also OneMan is at the Thompson Center…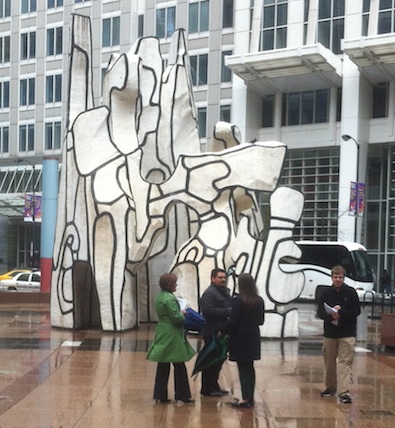 Not many people there.
63 Comments




























































































































































































Sorry, comments for this post are now closed.