*** UPDATE 2 *** Cleared…
Charges of plagiarism dogged Democrat Ann Callis' campaign for Congress for about six hours Monday until a staffer running a campaign in Iowa cleared the former judge from Edwardsville.

Callis, vying to unseat Republican U.S. Rep. Rodney Davis of Taylorville in Illinois' 13th Congressional District, was accused by Illinois Republican Party Chairman Jack Dorgan Monday morning of pilfering lines for her campaign website from Iowa Democrat Staci Appel.

By mid-afternoon, Appel campaign manager Ben Miller said it was his campaign that copied the material.

"The language identified on that page was intended to be a temporary placeholder and was inadvertently published," Miller said in an email. "We removed the copy when it was brought to our attention."
*** UPDATE 1*** From an e-mail…
Rich,

Just wanted to get you the correct information regarding your post on the Callis website. The Republican attacks are a lie—our site was up with full content weeks before the Appel campaign had anything but a splash page on their site.

August 16, 2013: Callis launches live site with issue statements: https://twitter.com/callis4illinois/status/368484491867594753

September 7, 2013: A web capture search found that on 9/7/2013 the Appel campaign only has a splash page—without any issue content. https://web.archive.org/web/20130907220609/http://appelforiowa.com/

Let me know if you have any other questions.

Best,
Marshall

–
Marshall Cohen
Campaign Manager, Ann Callis for Congress (IL-13)
Apparently, nobody can play this game.
Heh.
[ *** End Of Updates *** ]
* Yesterday, a state Republican Party official sent me a screen shot of Democratic congressional candidate Ann Callis' campaign home page…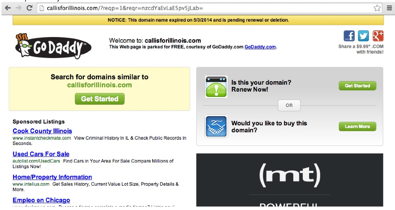 He noted that the domain named had expired on May 3rd. "Heck of a campaign so far!" he cracked.
Oops.
* The Republicans appear to have been doing some opposition research, because after the website went live again, the state GOP unleashed this attack…
BREAKING: Ann Callis Caught Plagiarizing On Her Campaign Website

"Cut-and-Paste Callis" lifts whole sections from Iowa Democrat's "Issues" Page… and tries to pass them off as her own.

Plagiarism Scandal is the latest example of Callis' refusal to tell the voters of the 13th District what she stands for.

SPRINGFIELD, IL – Ann Callis, running for Congress in Illinois's 13th Congressional District, was caught today plagiarizing key phrases, issue positions, and entire sections of the "issues" page on her website.

In two sections of her "issues" page, Callis' entire position on "Women's Health" and "Alternative Energy" are nearly identical to the positions on the website of Staci Appel, a Democrat running for Congress in Iowa, with the name changed to "Ann Callis" instead.

"Ann Callis thinks she deserves to be your Congresswoman, but she has to steal someone else's words to tell you why," said Jack Dorgan, Chairman of the Illinois Republican Party. "Callis owes the people of the 13th District an explanation, not an excuse."

On Callis' web page (as of May 4, 2014):

A total of at least 186 words have been copied directly from Staci Appel's page, in four different issue sections: "Pragmatic Leadership," "Education," "Alternative Energy," and "Women's Health."

Ann Callis' issues page went live on January 9, 2014, more than two full weeks after Staci Appel's (12/24/13, per Web.Archive.Org).
* This looks more like the usual lazy, cut and paste DCCC amateur hour crud than actual plagiarism. But it's a legit hit. Here's just one example. "Women's health"…


* Both candidates' issues pages…
33 Comments


































































































Sorry, comments for this post are now closed.