* Former Illinois Congressman Ken Gray wrote a letter to Caroline Kennedy and then talked to the Daily American about his relationship to Caroline's father John F. Kennedy…
"Your dad asked me to run for president after his two terms would have expired," writes Gray." The Constitution only allows two terms for a president and he was not fond of Lyndon Johnson and wanted me to succeed him."

Why this revelation had never seen the light of day has more to do with Gray's safety than it did his privacy. He says he was concerned for his own life which would have paralleled his dear friend in politics, issues and programs.

"He wanted me to be a candidate because he knew we shared the same ideology," said Gray. […]

Gray says he was more interested in hunting down a killer than becoming president which could have been fatal. […]

He says from that time on he knew that his life was at risk should he continue in the footsteps of Kennedy.

"I feel there is still some danger, but I'm at an age now that it wouldn't be so harmful," said Gray who spoke with authority and total clarity throughout the interview.

"I could have been killed if they knew of the friendship," he continued.
Um, OK.
* The accompanying photo…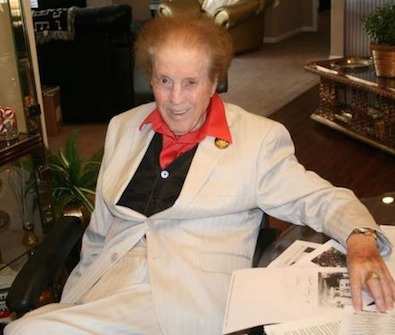 No, that's not Phil Spector.
Caption?
76 Comments



































































































































































































































Sorry, comments for this post are now closed.