* It's Friday, so a light post is in order. AP…
Things are getting a little fowl at the Illinois governor's mansion.

A flock of eight clucking hens has moved onto Executive Mansion property, laying eggs that are eaten by guests dining at the home in downtown Springfield.

The chickens peck at flowers, recycle plant waste and provide manure for the gardens. They live in a donated coop that's inside a fenced-in enclosure and are part of an ongoing sustainability effort.

Backyard chickens are legal in Springfield and several other Illinois communities. They've become increasing popular as part of a local food movement among other reasons.
* Erickson…
Located on the heavily landscaped grounds surrounding the 159-year-old Italianate home is a penned-in area home to eight laying hens.

The chickens have come home to roost at 5th and Jackson streets in downtown Springfield as one part of the governor's ongoing sustainability initiative. […]

The chickens live in a donated coop inside of a secure fenced-in enclosure near Fifth Street and eat a mix of chicken scratch and vegetation from the gardens.

The hens are a range of breeds, including Rhode Island Reds and Ameraucana, which lay eggs that can be pastel shades of brown, green or gray.
There was a huge and very loud party Wednesday night at the governor's mansion. I can't help but wonder how the chickens felt about that.
*** UPDATE *** Rep. Greg Harris sent along this photo of himself posing with the chickens. He said the party didn't appear to have bothered them at all…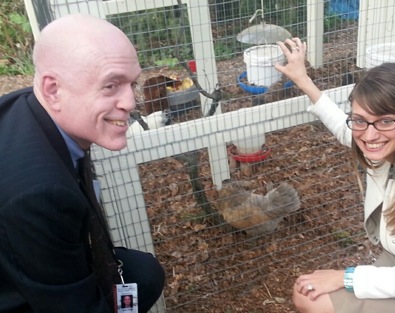 Caption?
44 Comments



































































































































Sorry, comments for this post are now closed.