* Remember this Tribune story?…
U.S. Senate candidate Jim Oberweis, who cites his successful push to raise Illinois' speed limit as the top accomplishment of his first year as a state lawmaker, has been ticketed for speeding 11 times since 1988, according to public records. […]

More than half of Oberweis' tickets have come since 2003. Many show Oberweis was driving a red Cadillac when he was cited.
* I went to the Conference of Women Legislators' big annual event last night. It was raining, and almost everybody got wet before the show. But I passed a red Cadillac parked right in front of the hotel in a handicapped parking spot. The Cadillac had no discernible handicapped sticker or placard, but it did have Senate license plates…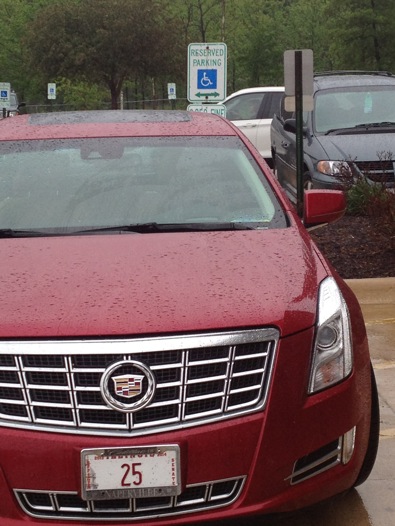 House license plate numbers are based on seniority. Senate license plates are based on district numbers. Wanna guess who represents Senate District 25?
He also had a "Dump Durbin 2014″ bumper sticker on the back of the car.
*** UPDATE *** From Dan Curry…
"Senator Oberweis was parking legally in that spot. He has a handicapped placard for a disintegrated disc condition in his back. He sometimes has difficulty standing or walking long distances. Because of this, he isn't able to walk in parades. He only parks in the handicapped spots when the pain is intense."
Again, neither I nor the three people I was talking to about this last night while we were hanging out front of the hotel saw any sort of placard.
*** UPDATE 2 *** I went back and looked at the photo more closely. Keep in mind that I looked into his car and didn't see a placard. Others with me went over and said they didn't see a placard.
But the Oberweis people seemed so sincere that I took another look at the photo and made it much larger. If you look at the driver's side front dash you'll see what could very well be one of those handicapped placards which are supposed to hang from your rearview mirror…
So, I could've just missed it in the rain. I dunno.
154 Comments













































































































































































































































































































































































































































































Sorry, comments for this post are now closed.