* Fox 32 reports on the often contentious appropriations bill debates yesterday…
The Illinois House was voting all day, and sent one appropriations bill after another to the State Senate. However, angry Republicans, and several suburban Democrats, complained that the Democratic majority is spending money the state doesn't have.

They had signs asking, "Temporary?"

It was a mocking reference to the state income tax increase that is scheduled to roll back next January.
* One of the signs…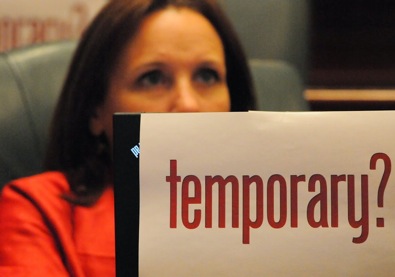 * But the Democrats did have a response…
Democrats, however, say Republicans only want to criticize, and haven't put forth a plan of their own.

Representative Jay Hoffman (D-Swansea) says he searched for the Republican budget everywhere. He even asked his dog.

"And I said, 'Willie, did you eat the Republicans' plan?' But he wouldn't do that to you, he's a good dog, he would never eat your plan," he said. "You know what your plan is? Your plan is to not have a plan."
Regardless of what you think of the debate, Hoffman's full speech was hilarious. Our good friends at BlueRoomStream.com isolated it for me last night, but their live video host livestream.com has been down since late last night. I asked Amanda Vinicki at WUIS if she could post a copy of Hoffman's entire rant. Listen to the whole thing…
Heh.
28 Comments



















































































Sorry, comments for this post are now closed.