* Will Reynolds at EcoWatch…
Illinois scored a victory this week against an attempt to sacrifice parts of the state to poorly regulated fracking. State Rep. John Bradley (D-Marion) introduced a bill to cut short the process of writing new regulation while also creating a fracking moratorium only in the Chicagoland area. The response showed that many Illinoisans are still opposed to fracking in our state.

The fracking debate has many southern Illinois residents talking about the region being a sacrifice zone. Like the Hunger Game's District 12, a sacrifice zone is where people are expected to shrug their shoulders with defeated acceptance as the cycle of boom and bust poverty and destruction continue generation after generation. Southern Illinois is sacrificed to an extraction economy that breeds poverty, offers dangerous jobs with high mortality rates while green jobs are created elsewhere, and exposes the public to deadly pollutants.
That's some seriously over the top rhetoric, if you ask me. District 12? Really?
* I linked to this story because of what the anti-frackers did after their press conference this week…
After the press conference, we held a procession to John Bradley's office to deliver two MoveOn.org Fracking Fighter petitions, the coalition letter to support a fracking ban and a coffin to represent the death sentence he issued against downstate Illinois. Following a die-in, the coffin, tombstone and flowers were left in Bradley's office.
A photo from Rising Tide Chicago's Facebook page…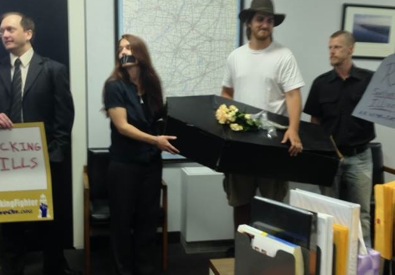 * Meanwhile, remember those 35,000 public comments generated on the fracking issue? The strategy behind this flood was laid out last October at Huffington Post by Jeff Biggers, the author of "Reckoning at Eagle Creek: The Secret Legacy of Coal in the Heartland." Check it out…
Over the Next 40 Days, We Need to Bury the IDNR in Comments About the Loophole-Riddled Fracking Rule – And Jump Start the Fracking Moratorium Movement: As Illinois native and renowned scientist Sandra Steingraber has admonished — and done well in New York — the only way to keep Illinois from fast-tracking the incredibly flawed rules into law is to bury the understaffed IDNR officials during the public comment period, who are required to respond. […]

By the end of the week, several citizens groups and environmental organizations, such as Southern Illinoisans Against Fracturing Our Environmental (SAFE) and the Illinois People's Action launch a daily comment email alert and website. Contact them or the many other grassroots groups who are working on this effort.
* To give you an example of how paranoid some of these folks can be, check out this section of Biggers HuffPo story…
Is IDNR rigging the fracking deck? On October 25, less than 24 hours after the news media reported that Mitchell Cohen was appointed the Director of IDNR's Office of Oil and Gas Resource Management, he was huddling at a Holiday Inn in Mount Vernon, Illinois for the Fall Membership meeting of the Illinois Oil & Gas Association.
Wow. An IDNR exec in charge of oil and gas resource management attended an industry function? How horrid.
* Ironically, Cohen was eventually moved out of his IDNR job for some apparent anti-fracking activities…
The man overseeing the crafting of rules governing hydraulic fracturing in the state has been pulled from the job, apparently after concerns were raised regarding his views on fracking. […]

No reason was offered for the reassignment but state Rep. Brandon Phelps, D-Harrisburg, said the circulation of a recent presentation given by Cohen in Chicago was the likely cause.

The presentation included lyrics from an anti-fracking song, Phelps said.

"That got a lot of people talking. He told us before that he had to be neutral but his presentation didn't seem neutral," Phelps said.
More…
The legislators obtained a copy of the PowerPoint presentation Cohen used in his speech, and it includes the parody songs. The lyrics stated, as an example, that "gone away is the bluebird," due to fracking.

Another example: "Fire bells ring, are you listening? In the lane, oil is glistening. A terrible sight, the gas drills at night, walking in a fracked-up wonderland." Also: "We'll frolic and play when we run them away, walking in a fracked-up wonderland."

Another lyric took a jab at legislators: "On the first day of Christmas, the Senate brought to me, a half-baked safety guarantee."
The full presentation is here.
49 Comments


















































































































































Sorry, comments for this post are now closed.