* Six of my late grandma's grandchildren served as pallbearers at her funeral yesterday. I was honored to be one of those men.
Her service yesterday consisted solely of family members telling stories about Grandma. We didn't want anybody speaking who didn't know her. Our consolation came from each other.
It's been a truly rough week for me, but I'm back in the saddle and ready to get on with life. The funeral home was directly across the street from House Republican candidate Glenn Nixon's campaign office. After her burial, I was back at the funeral home waiting for people to gather and decided, ah, what the heck, and walked across the street. Nixon wasn't there, but I was able to check out his office a bit and surprised the heck out of his staffer in the process. It was like therapy for me, and I know Grandma would've gotten a kick out of the shocked look on that kid's face when I told him who I was.
Heh.
* Many thanks to all who sent flowers, came to the wake and/or the funeral and who donated to the Arc of Iroquois County in Grandma's memory.
Here's Gramma Cuz in happier days with my brother Denny, who was also a pallbearer yesterday…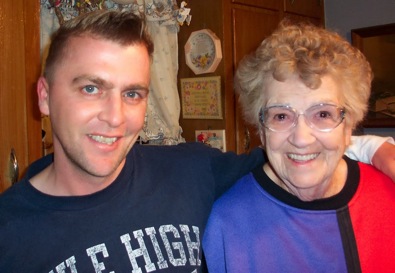 17 Comments


















































Sorry, comments for this post are now closed.