* I get e-mails…
Rich,

As a political reporter, I think you and your CAPITOLFAX readers would be shocked to find out what's underneath this shroud
The "shroud"…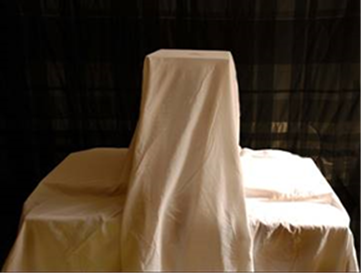 * The attached press release…
Please join us at the Capitol building on Monday…information below.
Steve Bosak
Communications Committee, The Illinois libertarian Party

Libertarian Party of Illinois Delivers Food, Facts, and Photos

June 20, 2014, Lemont, IL – The Libertarian Party of Illinois will hold a brief yet informative press conference at the Illinois State Capitol Building on June 23rd offering a plateful of candidates, a full take-away lunch for all reporters, and a hefty photo-op that will impress readers. Hint: the photo-op weighs in at over 20 pounds and represents at least 40,000 Illinois voters. Be on hand for a unique and photogenic display that doesn't focus on politicians standing around in suits, although we'll have many of our candidates on hand for one-on-one interviews after the short presentation if you like.

• Date: Monday June 23rd
• Time: 1:00 p.m.
• Location: Illinois Capitol Building, Room 010 (basement press office)
• Bring your press credentials, your appetite, and a camera (optional).
It's Friday, so let's keep it light and snarky…
* The Question: Should I go? Take the poll and then explain your answer in comments, please.
survey tool
I will abide by the poll's results.
72 Comments























































































































































































































Sorry, comments for this post are now closed.