* This looks very big. From a press release…
Targeted Victory, a leader in online advertising and integrated data management for political candidates, today announced a new partnership with The Data Trust, the premier right-of-center voter file and data management company, to offer easier access and sharing capabilities for The Data Trust's warehouse of data on more than 260 million Americans. The partnership is the first of its kind for The Data Trust, which has the exclusive list exchange agreement with the Republican National Committee. […]

Through this partnership, Targeted Victory will incorporate The Data Trust's political data inventory into its Audience Exchange, a powerful block of consumer and political data. The new segments will enable Targeted Victory's clients to place their message in front of their most important audiences. This partnership is the first of many anticipated by The Data Trust to place its data in the marketplace to be used across all methods of contact.
* I asked specifically how this would be done and Abe Adams, Senior Director of Client Strategy & Fundraising at Targeted Victory, sent over some dot points…
· We're building the biggest data marketplace in politics. Audience Exchange has a powerful block of consumer and political data from world-class providers like i360, Datalogix, Lotame, and now The Data Trust.

· The Data Trust has compiled records and information on about 260 million Americans. Until now, their data was only used for mail and phone outreach. By onboarding their data into Audience Exchange, we now have additional medium to touch these potential voters - online.

· This new data segment is available to Targeted Victory clients, but also available to self-service Targeted Engagement users. Targeted Engagement is the first self-service advertising product built exclusively for politics, and offers the voter data used by presidential campaigns to campaigns of ALL SIZES on the right.

· Our partnership with The Data Trust gives campaigns of all sizes access to a powerful new block of data, and will enable campaigns to target and segment audiences with more reach and versatility than ever before.
Looks pretty extensive.
* And that's not the only move Targeted Victory is making. From Campaigns and Elections…
How can campaigns reach voters who are consuming media on multiple screens? The Republican digital firm Targeted Victory has rolled out a new partnership with Rentrak aimed at helping campaigns do just that.

Targeted Victory plans on layering Rentrak's TV viewing data into Audience Exchange, a catalogue that uses consumer-based data from providers i360, Datalogix, and Lotame. The partnership is notable given the role Rentrak data played in 2012—the Obama campaign contracted with the data provider to better target persuadable voters based on their TV viewing habits.
* From the Q&A…
C&E: How do you expect the trend of straying away from traditional television viewing habits to continue in 2014?

Beach: I think both the broadcast and the digital mediums are growing, but I think that a larger share of this development is going digital. It's always been that there are two groups of people: live TV watchers, who compose 17% of viewers, and "off the grid" viewers, meaning people who watch all of their content through streaming or DVR, who compose 30% of viewers. But what we've seen in the last year's research is a third middle group which we're calling "screen agnostic." These people are trending away from only live TV, but are consuming on numerous devices. These people compose the largest group of the three, as they compose 54% of viewers. They are who we hope to target with this product.
* Meanwhile, a reader turned me on to Greenhouse…
A free browser extension for Chrome, Firefox, and Safari that exposes the role money plays in Congress. Displays on any web page detailed campaign contribution data for every Senator and Representative, including total amount received and breakdown by industry and by size of donation. Puts vital data where it's most relevant so you can discover the real impact of money on our political system.
I installed the app for my Safari browser. This is what happens when you hover over an incumbent's name…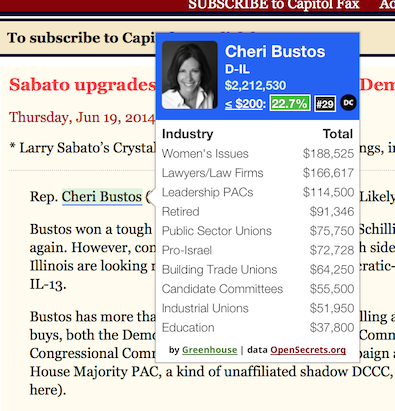 Very, very cool. Now, if only they'd expand the app to include challengers.
* From a MapLight press release…
MapLight, a nonpartisan research organization that tracks the influence of money in politics, announces the launch of an extensive mapping project examining the geographic origin of contributions to legislators by state; contributions from companies to legislators by state; and roll call votes by state and district on key bills in Congress. For the first time, it will be possible to instantly see and understand the role money from outside sources plays in local races and the geographic alignment of support and opposition to key legislative initiatives.
Have you run across any cool political apps/tech lately?
* Related…
* NGP VAN and Catalist partner for NEA's 'Activist Continuum': Catalist is providing statistical algorithms and NGP VAN is taking their calculations and plugging them into their "Continuum" interface, which "give end-users dynamically updated information about member activities – and better tailor communication to match the topics and types of activities that members are most interested in," according to Stu Trevelyan, NGP VAN's CEO.
18 Comments





















































Sorry, comments for this post are now closed.