* You gotta be kidding me…
The symbolism may have been lost for anyone traveling down 153rd Street Monday. However, two people dressed up as poultry and a guy in a Pinocchio costume were all part of the current campaign for governor of Illinois.

It started when Governor Pat Quinn's campaign sent a man to put on a chicken suit outside an Orland Park country club. As nearby lawn signs indicated, inside Republican Bruce Rauner was raising campaign cash from about 100 supporters.

Suddenly, a van dispatched by the Rauner campaign raced to the scene. First out, the costumed character they call 'Quinn-ochio,' soon joined by another chicken. […]

The governor's campaign finally got in the game Monday, debuting its own poultry prank. A campaign press release claimed Rauner's been too chicken for over a year now to offer voters a plan for a truly balanced budget.
Give Rauner's team tons of credit for its rapid chicken response effort, but this campaign season has already jumped the shark… to mix a metaphor.
…Adding… Quinn's chicken was delivered by a Floridian.
* Meanwhile, could yet another underpaid "actor" in a silly fowl suit appear on the campaign trail? From a press release…
Tax Hike Mike Frerichs Ducks Debate
Refuses to Defend his Tax Hike Votes and New Service Tax Plans

PLAINFIELD…Democrat Senator Mike Frerichs ducked out of the first scheduled debate between himself and Republican Tom Cross. Frerichs had agreed to participate in the debate, hosted by Bill Cameron of WLS, but then ducked out.
* And, yes, you can buy goofy duck costumes…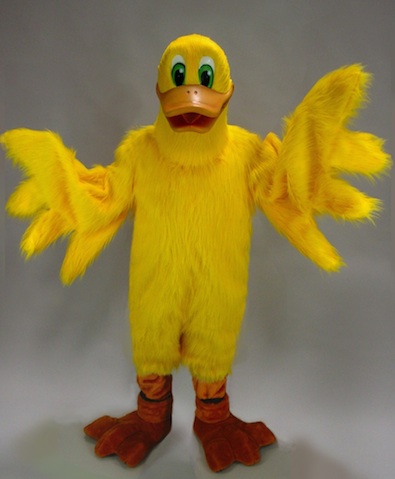 …Adding… Speaking of costumes, does an $18 watch clash with a white tuxedo?…
Sometimes you accidentally meet Bruce Rauner and that's life oops pic.twitter.com/drqbKj3us6

— Peter Danos (@carguyforlife) June 15, 2014
36 Comments











































































































Sorry, comments for this post are now closed.