The nation's statehouses lost more than one-third of the journalists devoted to covering legislative matters full time, according to a study released on Thursday morning by the Journalism Project at the Pew Research Center.

The study, which surveyed all 50 statehouses, found a loss of 164 full-time statehouse reporters since 2003. The total number of full-time statehouse reporters dipped to roughly 300.

The study defined these journalists as reporters who worked physically in the statehouses. At the same time, nontraditional news organizations added journalists at state houses, including for-profit and nonprofit digital news organizations, ideologically driven publications and expensive trade newsletters catering to lobbyists.
* Economics is obviously at play here, but the weird thing about the Illinois data is that the period of decline in Illinois Statehouse reporters spanned one of the most gut-wrenching political eras Springfield had ever seen. From the Pew study…
In order to provide a direct comparison with today, Pew researchers examined staffing at the papers included in both 2003 and 2009 AJR studies as well as in the current 2014 data. Those 220 papers had 467 full-time statehouse reporters in 2003, which dropped to 343 in 2009 and then to 303 in 2014. That amounts to a 27% decline from 2003 to 2009, a 12% loss from 2009 to 2014, and an overall decline of 35%.

These cutbacks are not uniform across the board, however. Newspapers' statehouse staffing among this cohort of papers dwindled in 23 states between 2009 and 2014. The sharpest cuts occurred in Illinois, which lost seven full-time newspaper slots—from 12 to five—during that period.
When I first arrived at the Statehouse, even the Alton Telegraph had a full-time reporter. The Champaign News-Gazette, the Rockford Register-Star both dumped their Statehouse bureaus in recent years, as have others. One explanation…
"Way back in the day, 35 years ago, a lot of the small papers had reporters in the statehouse," said Susan Moeller, news editor of the Cape Cod Times in Massachusetts. Her paper had a two-person statehouse bureau, which was cut to one and then zero during the recession, she said.

"You can lay off your statehouse reporter or you can lay off somebody covering your town that is nearer and dearer to people's hearts," Moeller said. "You will lay off the statehouse reporter because you can get that from another source." Last year, Moeller said, editors hired a reporter to cover the statehouse part time—but he is based on Cape Cod and also responsible for covering the town of Hyannis.
* Pew reports that 43 percent of all full-time statehouse reporters work for newspapers, another 12 percent work for wire services, and 12 percent work for TV stations. 9 percent work for radio and three percent file stories across multiple platforms. Another 7 percent are folks like me…
A total of 73 reporters cover state government for specialty publications aimed at government insiders, and 49 of them are full time—accounting for 7% of the total full-time statehouse reporting corps. Five reporters cover the statehouse only during legislative sessions, and 15 do so part time. Two of the journalists are students and two are in the category of "other."

These outlets often charge hefty subscription fees, placing the content outside the reach of a general audience. They target lawmakers, lobbyists, activists and even journalists who are willing to pay for highly specialized information about the inner workings of government. Indeed, some of these outlets are owned by lobbyists or interest groups.

Prices for these outlets vary widely. The Alaska Budget Report charges $2,397 a year, the Austin Monitor $1,099 a year and the Tennessee Journal, $247 a year, to name a few.
$2,397 a year?
* Ideological outlets, like the Franklin Center's Illinois Watchdog, have stepped in to fill part of the void…
Among the nontraditional statehouse outlets are those that have a stated ideological point of view. Most of them define themselves as conservative or as in favor of a "free market," a basic tenet of economic conservatism. Only one outlet, NC Policy Watch, calls itself progressive.

The ideological outlets assign 53 reporters to the statehouse. Those outlets assign 17 reporters to state government full time, just 2% of all full-time reporters. They dispatch 15 reporters to the statehouse only during legislative sessions and 19 are part time. In addition, they have two student reporters. Most of these publications are digital only and many also are nonprofits. But because they describe themselves in ideological terms, we created a category to distinguish them.

About half of the ideological sites (14 out of 33) are owned by the Franklin Center for Government & Public Integrity, a nonprofit that was founded in 2009 "to address the falloff in statehouse reporting as well as the steep decline in investigative reporting in the country," said spokesman Michael Moroney. The center, based just outside Washington, D.C., in Alexandria, Va., supports a free market, he said.
* A couple of charts. Statehouse reporters in the ten biggest states…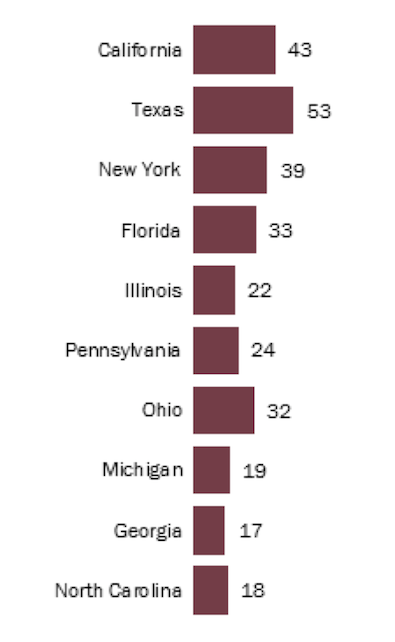 Over two-thirds of newspapers don't have a statehouse reporter…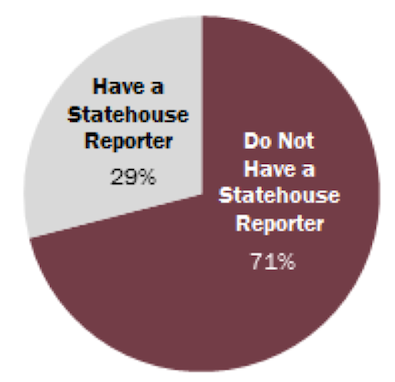 * This is a really long study, so I've cherry-picked all the Illinois stuff for you…
In Illinois, the State Journal-Register, based in Springfield, covers the statehouse for all Illinois newspapers owned by its parent company, GateHouse Media. […]

In addition, eight full-time journalists work for professional publications, such as local business journals or others that target a specific industry. Two full-time statehouse reporters work for outlets owned by universities—one each at the University of Illinois and the University of Missouri. […]

"We receive several wire service reports, but no longer have a reporter in Springfield," said Philip Angelo, senior editor of the Small Newspaper Group, which has a handful of papers in Illinois. "We've had several rounds of layoffs." […]

Illinois, Pennsylvania and Ohio are roughly comparable, with 12.8 million, 12.7 million and 11.5 million residents, respectively. But Ohio, the least populous of the three, has considerably more full-time statehouse reporters—32—than Illinois (22) or Pennsylvania (24). […]

In Illinois, the House and Senate provide live audio and video streams of floor sessions and committee hearings, said Steve Brown, press secretary to Speaker of the House Michael J. Madigan, a Democrat. "In some ways, you may be able to get more information because there are more things available to average citizens through state government itself," said Brown, who has worked in the capitol for more than 30 years, initially as a newspaper reporter. But, he added, "It's not the same as when your news was dropped at your door."
Discuss.
14 Comments









































Sorry, comments for this post are now closed.