* I actually teared up a little when the folks from Lutheran Social Services of Illinois approached me about giving me their "Amicus Certus" award, but I was reluctant to the point of wanting to find a way to say "No." Sure, we've helped raised them a few bucks, but is that really worth an award?
On the other hand, the awards dinner is another way to help raise some more money for one of the best social service organizations in the entire state, if not the nation. If they thought it would work, who am I to turn them down? Plus, Orion Samuelson got the award a while ago and I've been a huge fan of his ever since I was a kid riding on a tractor and listening to every word of his farm report. That man has the best voice in all of radio. So, buy your tickets now…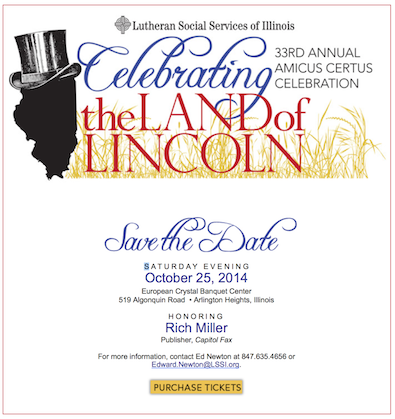 Amicus Certus means "True Friend." Some award background…
A true friend is one soul in two bodies. That was Aristotle's idea of amicus certus.

For Lutheran Social Services of Illinois (LSSI), Amicus Certus ("true friend") is the name of the award given at our annual fall celebration, presented to a person who has made significant contributions to the human community.
Some LSSI background…
Founded in 1867, Lutheran Social Services of Illinois (LSSI) is a statewide, not-for-profit social service agency of the Evangelical Lutheran Church in America. LSSI is committed to caring for people in need, regardless of religion, age or national origin, helping them to make important changes that lead to better lives and stronger communities. Each year, tens of thousands of people receive assistance from LSSI through a broad array of children's services, older adult care, senior housing, behavioral health and development disabilities services, and services for prisoners and their families.
* As you may recall, we donated all profits from both of my 50th birthday parties (Springfield and Chicago) to LSSI, then donated a large number of toys at my Christmas-time City Club speech last year, plus raised some cash. We'll be doing the toy collection thing again this year as well.
Like I said, that really isn't all that much. But I'm still honored that they think this highly of me. So buy some tickets and sponsor some tables.
/fullcourtpress
11 Comments
































Sorry, comments for this post are now closed.