* Remember the story last Wednesday about Comptroller Judy Baar Topinka talking to Gov. Pat Quinn about her hopes that her son would land a job at SIU? Topinka's office insists she didn't ask Quinn to help her son get the job. Quinn's campaign says the governor didn't understand what she was talking about.
Well, it took a while, but Sheila Simon's comptroller campaign has finally responded…
"Only someone who has been a politician in Springfield for 30 years would show up at a bill signing to benefit the victims of tornado damage and ask for a job for a family member. The Office of Comptroller cannot be entrusted to a person who treats taxpayer-funded jobs like bargaining chips," campaign chief Dave Mellet said.
* Simon also ran an ad on Facebook late last week…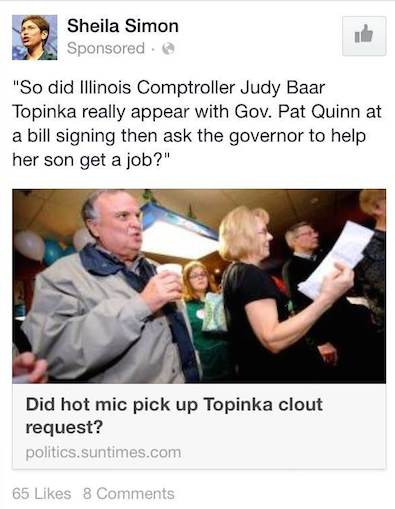 Apparently, the Quinn/Simon breakup is now official.
33 Comments


































































































Sorry, comments for this post are now closed.