* From a press release…
BATH, IL — More than 7,000 invasive carp were removed from the Illinois River this past weekend and hundreds of people watched Asian carp cooking demonstrations during the 9th Annual Redneck Fishing Tournament.

"Every year I'm amazed at how many people turn out," said Betty DeFord, who organizes the tournament. "More and more people are being made aware of the problems these fish create."

Four, 2-hour fishing heats spread over Friday and Saturday netted 7,126 fish. The Sushi Slayer team from Washington, IL took first place with 531 Asian carp. Schafer Fisheries hauled away the fish to process into fertilizer.

Tournament proceeds will help homeless veterans through the Veterans Affairs hospital in Danville. More than $1,700 was raised through raffles. The Sushi Slayers and other top finishers donated their winnings to help the cause.
* The Senate Democrats' communications director John Patterson was part of a team that caught over 300 flying carp. He's posted a video of the experience…
Man, that place was fragrant on Sunday. Whew. I met some cool people, though, and traveled there with an old friend who texted me this morning…
Thanks again for an epic unrepeatable weekend!
Ain't that the truth. Still dragging today. Oscar is worn out too.
* On to the caption contest. Yes, it's late in the day, but hopefully we'll still get some solid entrees. I mean, how many times do we get to mess with Patterson? Here he is holding a giant flying carp that a member of his team netted right before it flew into somebody else's face…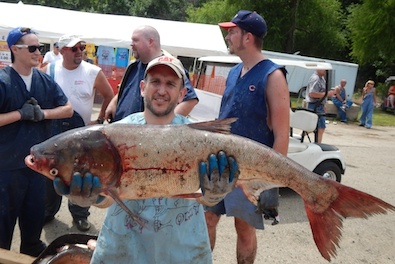 77 Comments






































































































































































































































Sorry, comments for this post are now closed.