* Evelyn Sanguinetti contacted a former law school classmate who is a staff attorney at the Illinois Department of Human Rights about getting a state job before she was tapped to be Bruce Rauner's running mate…
"Hello Honey — With the New Year, I am seeking other employment opportunities. Is anything available in ur hood?" she wrote in an email to the attorney [on the afternoon of Jan. 1, 2013].

The worker responded a day later, saying nothing was open and that state government was in the midst of a budget-related round of layoffs. But he suggested she file her resume with the state's main hiring agency in order to get the process moving. […]

And, the Wheaton resident added, "Isn't cow tipping a work requirement in Springfield (LOL)?"

Schrimpf suggested the comment wasn't meant as a dig about downstate Illinois.

"The cow tipping reference was a jovial exchange … Evelyn loves the Springfield area, and unlike Pat Quinn, who spends the bulk of his time in Chicago, she looks forward to working in the capital region next year," Schrimpf said.
Have at it, campers.
* Meanwhile, let's go back to that new Sun-Times poll…
When asked who was "better prepared to serve as governor if the need arises," 45 percent of respondents gave the nod to the former Chicago Public Schools CEO, Vallas, who ran for governor in 2002. Wheaton City Councilwoman Sanguinetti drew support from 35 percent of those polled.
That ain't much of a help to Quinn.
* Crosstabs…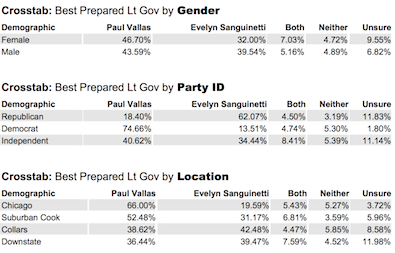 74 Comments





























































































































































































































Sorry, comments for this post are now closed.