* The headline…
Rauner firm faces fines for illegal sign in West Rogers Park
* The lede…
A Cook County judge will decide whether Bruce Rauner, the Republican candidate for governor, and his business partners must pay fines for illegally erecting a digital billboard on a building in West Rogers Park.
* The offense…
The company has signs across Chicago and in some suburbs. It ran into trouble with City Hall over a 10-foot-by-10-foot sign it put up about a year ago above the corner doorway at 6958 N. Western Ave.

It got a permit from City Hall on Dec. 14, 2012, for an electric sign but didn't also obtain a required public-use permit from the City Council, which has to sign off whenever a sign extends onto public property.

"The sign was hanging over the public way, and they didn't have a permit," said Ald. Debra Silverstein (50th). "It was quite a large sign, and the neighbors were complaining about it."
As we've discussed before, Chicago is crazy about its regulations of business signs, awnings and the like. It's ridiculous and unjustifiable. I mean, according to the article, the company is facing fines of as much as $15,000 a day, dating back to Feb. 25.
Sheesh.
* Back to the story, which notes that Rauner is a "passive investor" in the company…
The Rauner campaign has received $188,000 in free advertising from the sign company in the past five months, according to financial disclosure reports that it's filed with the Illinois State Board of Election.
* These photos aren't in the article, but perhaps the subject matter of the above 50th Ward sign is what got Ald. Silverstein so fired up…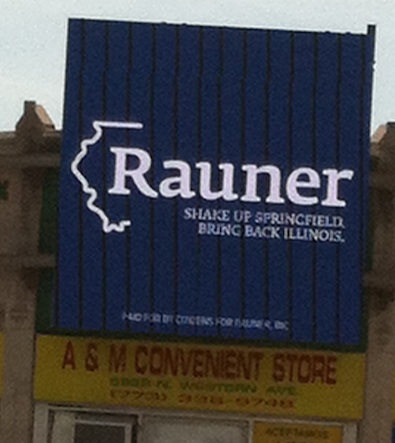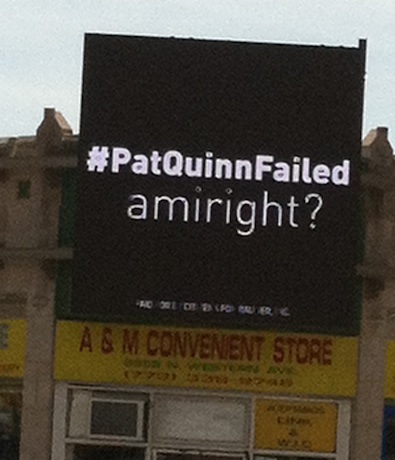 Yeah, I'm sure that had nothing whatsoever to do with the alderman's hissy fit.
#amiright?
…Adding… Apparently, this fight has raged for awhile, even before the signs started flashing pro-Rauner messages…
The approximately 100-square-foot sign went up in early June [of 2013], facing north on the busy intersection.

Ald. Debra Silverstein (50th) also has heard criticism from her constituents about the sign erected by Digital Greensigns above the corner store at 6958 N. Western Ave., she said.
But…
Joseph Mancino, CEO of the digital billboard company, wouldn't comment on other signs, but said the sign in West Rogers Park was erected lawfully and in compliance with a building permit.

The city confirmed that the company obtained the proper building permit and that it was located snuggly enough up against the single-story commercial building not to need a public-use permit.
Just absolutely ridiculous.
Look at the building…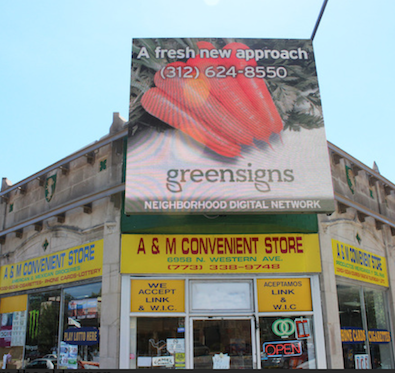 Which is uglier, the business or the sign?
43 Comments
































































































































Sorry, comments for this post are now closed.