* Results from the latest Tribune poll…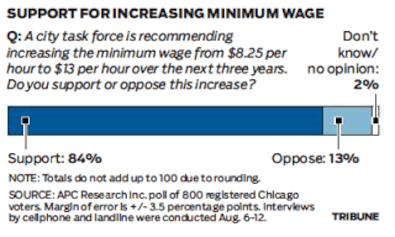 * Trib coverage…
There are no plans for aldermen to consider Emanuel's proposal until after the Nov. 4 election, when voters across Illinois will be asked if they back a minimum wage of $10 an hour.

Democrats hope that advisory referendum will boost turnout in a year when U.S. Sen. Dick Durbin and Gov. Pat Quinn are running for re-election and campaigning against income inequality. If Chicago raised its minimum wage to $13 an hour before the statewide election, some of the air could be taken out of the issue in the heavily Democratic city.

Conversely, if the General Assembly ends up raising Illinois' minimum wage to $10 an hour, that could relieve some of the pressure on the City Council to take Chicago's rate even higher. Emanuel won't say whether he'll keep pushing for a $13-an-hour city minimum wage in that situation.
It's just politics, of course, and something I've discussed with subscribers, but man is that ever an incredibly cynical ploy to postpone the city council vote.
40 Comments























































































































Sorry, comments for this post are now closed.