* Man, it's only August 20th and it seems like October. At one point yesterday afternoon, CapitolFax.com was loading slowly, so I called my local web hosting company to ask what was going on. They said the site was getting 50 visits per second. I thought we were under attack or something. But no. It was all legit traffic.
We ended up with over 290,000 page views yesterday - twice the number we had on the day Rod Blagojevich was arrested (which stood as a record for a very long time) and more than all days but one during the record-setting month of this past May, when we came close to 5 million page views.
To put this into perspective, Andrew Sullivan's Daily Dish had about six million page views last month. Sully's blog is read all over the world. This blog is read almost solely in Illinois.
What was that line in Godfather, Part II? "Michael, we're bigger than US Steel."
Just kidding.
Sullivan has far more unique visitors than we do here, but our folks come back constantly throughout the day and into the evening. So I'd be remiss if I didn't thank all of you for your presence here.
* Despite the increase in traffic, comments have remained mostly civil. Thanks for that as well. The newbies have yet to arrive, however. They'll undoubtedly descend upon our beloved website to spew their DC talking points as we get closer to election day, even though, as I said, it's already starting to feel like the home stretch.
* And speaking of the fast-approaching election, things are getting a little testy behind the scenes between the two campaign staffs. Gov. Quinn's campaign communications director Brooke Anderson blocked some Rauner comms staff from following her Twitter account today. One of Rauner's guys sent me this…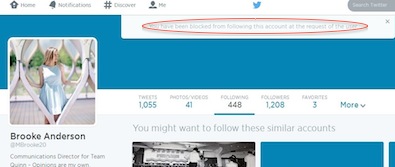 From Brooke…
A. Whiners. B. I'll make them a deal: they can follow my personal Twitter if they'll disclose their candidate's full tax records!

Lol
Heh. She does use that account quite a lot for her job, though. And the Rauner staff hasn't Twitter-blocked anyone from the Quinn campaign… yet.
Anyway, it's a small thing, but I do expect this situation to get plenty worse by November. My pre-election party for top campaign staff should be interesting.
27 Comments
















































































Sorry, comments for this post are now closed.