It's a scenario that has become all too familiar. You're frustrated with the gridlock in DC; you're sickened by the burgeoning national debt; you think the country has gone to "hell in a handbasket" under the current administration and party leadership; and then you get a direct mail piece, or an email, or see an ad on the web that promises change by supporting candidates who embrace your ideals.

Hopeful and excited to learn that there are organizations willing to fight for what you think will "fix this country," you grab your credit card and fire off a donation, confident you have contributed to a worthwhile cause. […]

Here are five very recognizable organizations that spend vastly more on fundraising efforts than on support for any candidate.
* The chart…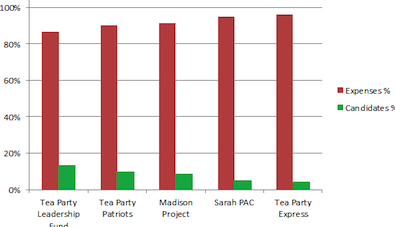 * From the Atlantic…
Journalists often lament the absence of presidential leadership. What they are really observing is the weakening of congressional followership. Members of the liberal Congress elected in 1974 overturned the old committee system in an effort to weaken the power of southern conservatives. Instead—and quite inadvertently—they weakened the power of any president to move any program through any Congress. Committees and subcommittees multiplied to the point where no single chair has the power to guarantee anything. […]

In short, in the name of "reform," Americans over the past half century have weakened political authority. Instead of yielding more accountability, however, these reforms have yielded more lobbying, more expense, more delay, and more indecision.
17 Comments


















































Sorry, comments for this post are now closed.