* IEA President Cinda Klickna recently did a robocall to her members telling them they are about to receive mailers about the union's recommended candidates. "To protect our students, our schools and our pensions we must stop Bruce Rauner," Klickna says, adding an encouragement to vote absentee…
* Today, a mailer touting early voting was received by IEA members. Click the pics for larger images…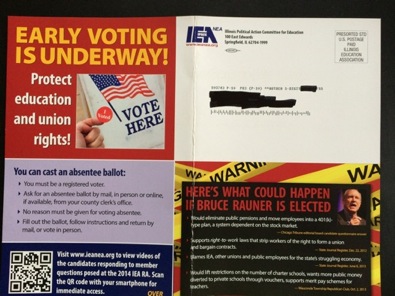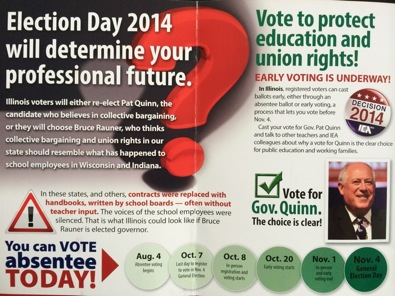 *** UPDATE *** A county clerk pal of mine texts to say that the IEA got some of its dates wrong…
The IEA flier has some incorrect dates. 8/4 - absentee voting begins. 8/4 is first day for absentee ballot requests, not first day for voting. There's going to be so much confusion this election. Absentee voting doesn't begin until 9/25. Ballots aren't ready yet in most jurisdictions, so there's no way voting can being 8/4.

Also, Early Voting ends this election on Sunday, November 2, not November 1, as the flier states.
Oops.
28 Comments



















































































Sorry, comments for this post are now closed.